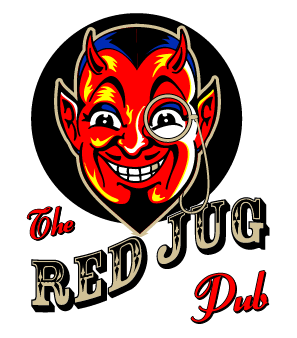 Rachel Dobkin, News Editor |
With college life finally seeming to be getting back to normal, it's no surprise that the Red Jug Pub would be there to celebrate as well. Last Saturday, Mar. 5, the Jug, as it's commonly referred to, had its St. Oney's Day celebration.
The Jug was open all day from 9 a.m. to 2 a.m. They had specialty drinks like green beer, green lemonades, green Jug-r-nots, Irish whiskey, Irish coffee, Irish car bombs and so much more! Everything was green from the newly released St. Patrick's Day T-Shirt to the bar decorations.
Looking back to last year's St. Oney's day, Saturday's celebration was drastically different. Due to the pandemic, a lot of students were at home doing remote learning last year. The town also took a stand against any St. Patrick's Day promotions, most likely with the fear that it would cause an uptick in cases. This made for a sad St. Oney's Day. Last year just felt like a regular day at the bar; this year it felt like a festive holiday and people looked excited to be there.
As opposed to the bare bar decorations last year, this year, the Jug was decked out in St. Patrick's Day merch. The liquor was lit up by bright green lights. The ceiling had all kinds of streamers and hanging decorations. Even the outside was decorated with temporary spraypainted shamrocks on the sidewalk, leading into the Jug. The bartenders also added to the St. Patrick's Day vibe. They were all wearing green, whether it was an old Jug St. Patrick's Day T-shirt or some green beads. Most of the customers were also in the spirit of wearing green.
Speaking of the customers, the bar was packed. There was even a line out the door! Last year, my friend and I were basically the only two people in the bar. This year it was hard to even get your order taken. I think this had to do with the Instagram promotion that the Jug was able to do this year. They had multiple posts throughout the past two weeks to promote the event and drink options.
Although I didn't personally try their specialty drinks, they all looked really fun and festive. My friends and I ended up doing a T-shirt challenge which is $30 in cash, or $35 in debit/credit card for four vodka lemonades. If you finish the lemonades, you also get a free T-shirt. The service was a little slow in the beginning but as the night went on, our drinks came pretty fast. All the bartenders seemed friendly for the most part and they all looked college-aged, which is usually the vibe of the Red Jug Pub.
As COVID-19 restrictions become further loosened and we see increasing normalcy, I have a feeling that the Jug's events will be even more popular than they were pre-COVID. They have deals most nights of the week like Trivia Tuesday, Dollar Drafts on Wednesday, and a whole bunch of holiday-themed nights, like their Mardi Gras party that they hosted most recently. So, if you are 21 or older, stop by for a drink at the Red Jug Pub located on Main Street!