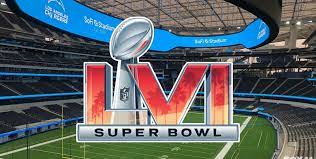 Alexa Di Palermo
On Sunday Feb. 13, many gathered all around the world to watch the Super Bowl between the Rams and the Bengles. Many like to watch the game, but as a person who does not understand sports too well, I love to watch the half time show. I have watched many halftime performances in my twenty years of living, and this one had to be one of my favorites. Performers Dr. Dre, Snoop Dogg, Eminem, Mary J. Blige, Kendrick Lamar, and surprise guest 50 Cent had an amazing performance that kept the audience loud and proud the entire time!
To start, Snoop and Dr. Dre killed their performance together as always. They played classics that took me back in time and kept the crowd screaming the entire time! Just when everyone thought their performance was over, they popped back at the end to keep the audience at their happiest, taking them back to their days of being young, wild, and free.
To the audience's surprise, 50 Cent was hanging upside down from the ceiling, to sing an audience favorite, "In Da Club". Obviously, everyone was talking about how 50 Cent was hanging upside down and had to make a million memes about it. This performance was just what we needed!
Up next was the beautiful and talented Mary J. Blige who not only looked stunning but kept the audience hyper! This was another performance to take us right back to the good times and best times, when some of our student body hadn't even been born yet!
Kendrick Lamar had us all hyper as well, as he is a fan favorite to many in both the gen-z and millennial generations. He performed the most beloved classics and had the audience on their feet! Another artist who kept the audience happy was Eminem, who made many of us nostalgic to the good old days.
Overall, the performance was amazing. I think even the stage they performed on was cool! The way the artists utilized their space made the performance more interactive and enjoyable for the audience in the bleachers and at home on their couches.
I decided to ask other students whom I watched the game with what their opinions were, and they also liked the performance. Sarina Graziano, a junior here at SUNY Oneonta, stated "It was good, but it was too short. I wish it had been longer!" Jessica Murray, a sophomore, chimed in with her opinion. "It was short. I also think it would have been better if it was darker while they were performing." At the end of the conversation, we all collectively agreed Kanye West should have left the audience and performed. That would have been an awesome surprise, considering everyone is watching his Instagram like a hawk at this moment!
We from The State Times hope everyone enjoyed Super Bowl Sunday (and Euphoria Sunday) as much as we did! Stay safe, stay healthy, and enjoy Red Dragons!