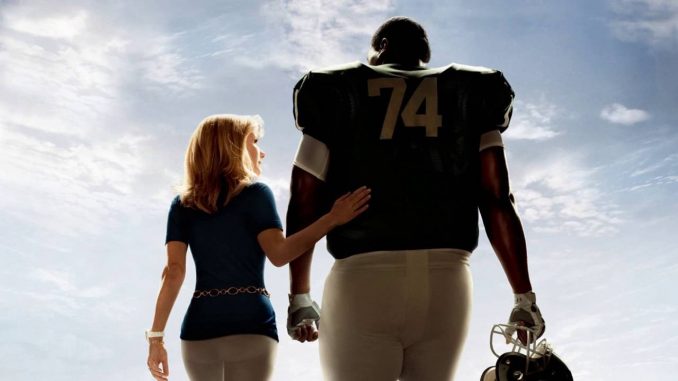 Chelsea Sookra, Staff Writer |
In American football, the quarterback is typically right-handed and makes his throws using that dominant hand. This puts much of his attention to his front and right peripheral. But what about his left peripheral, his blind side? Well, that's a job for the left tackle. The left tackle is a player on the left side of the offensive line that blocks for the right-handed quarterback and running back.
In the movie, "The Blind Side", starring Sandra Bullock, Tim McGraw, and Quinton Aaron, it shows the amazing story of a young black man's journey from the streets of Memphis, to becoming an offensive tackle in the National Football League (NFL). The movie starts off with a 1985 rerun of the infamous football game of the New York Giants vs. the Washington Redskins. In this rerun, linebacker Lawrence Taylor breaks quarterback Joe Theismann's leg, thus permanently ending Theismann's career. He would never play a game in the NFL again, all because he didn't have a left tackle protecting him. The movie continues by introducing Michael Oher, an immense kid from Memphis, Tennessee.
Oher's age is not depicted in the movies, along with a lot of his demographics and background. This is due to his poverty-stricken life and paternal drug abused background. Michael was bounced around the system and eventually found his way into a privileged Christian school, by the help of a friend. Although his grades are beyond poor and his learning ethic is extremely unteachable, as well as his appearance being one soiled T-shirt and holes in his sneakers, he gets noticed by the Touhy family.
The Touhy's are a wealthy family from the much nicer side of town who practically take Michael under their wing. They eventually clothe and house him. Then they notice something which was exceedingly visible from the beginning of the movie: Michael's size. He was extremely large with the matching appendages but light on his feet. It is here that Michael was encouraged to play football. But contrary to the stereotype of his size, Michaels' persona is quite opposite.
Throughout the movie, it seems like Michael couldn't hurt a fly but his protective abilities were off the charts. At one point in the movie, Michael and his adoptive brother, SJ, get into a car accident. It is revealed that Michael stopped the impact of the air bag from killing SJ. This opens Mrs. Touhy's eyes and she helps him channel his strength. Michael goes on to became a star athlete. The movie continues to show Michael's personal and professional life from high school to college and then an NFL player. Overall, this movie based on a true story is really moving and all you can do is root for Michael to overcome his struggles. "The Blind Side" argues that poverty and racism create a sort of prison, and how people need to be rescued from them, also stating that it is a righteous act of what people do to help someone out of that imprisonment.