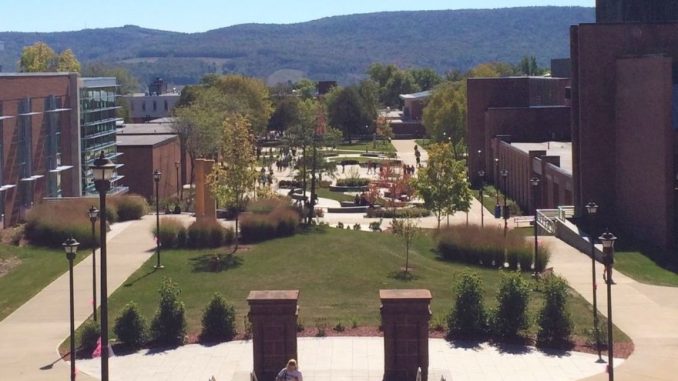 Chelsea Sookra, Staff Writer |
This week's "Student to O-State" on Thursday, Oct. 7th featured Kate McMichael, Assistant Director of the Office of Student Success (formerly known as New Student Services). Students had prepared a series of questions to ask Kate about what undergrad was like for her.
The discussion began with "Are you a first-generation college student?" McMichael replied yes and no. Her mother got her associate's degree far before McMichael entered college so she had to navigate a different application and college system than her parents did. McMichael went to SUNY Oswego (where she conveniently met her husband after deciding not to go to Oneonta due to one of her exes).
Next, McMichael was asked if she had ever had a bad semester. Yes, she did! Her first semester, in fact. McMichael told the audience how she never studied and never went to class due to feeling like high school was so easy not realizing college was entirely different. She was actually almost put on academic probation. She picked herself up after that and started doing better the following semesters.
When asked what some of her biggest struggles in college were, McMichael said that she had her sights set on becoming a teacher, but that wasn't what she wanted. She let family influence her but she wanted to explore other options. She got her bachelor's degree in education and was grateful for the experience. McMichael ended up not becoming a teacher, living her heart's desire.
The discussion then moved to extracurriculars, where McMichael said that she did intramural sports and was an orientation leader every summer since her freshman year. McMichael works with orientation leaders now and she finds it ironic how she loved what she did every summer but didn't realize she should do something like this with her life.

McMichael was asked where she went to grad school and what the application process was like. She went to SUNY Oswego for her graduate education because they recruited her on the spot and she worked in the orientation office. For her, it was a simple application process and a simple essay.
McMichael wishes she had gone for her graduate degree in higher education administration or public administration. She ended up switching her assistantship to judicial affairs but stuck with her Master's in education.
She grew her roots in the SUNY System and graduated from SUNY Oswego in 2011 and started her job at SUNY Oneonta in 2011. McMichael loves her job here because of how easily she is able to connect and be vulnerable with students. The Office of Student Success aims to support students through every year of their degree, not just their freshman year.
Along with working in the Office of Student Success, McMichael also teaches INT134 (a seminar for transfers) and a section of EOP classes. Despite not wanting to become a teacher, she still loves teaching, training and public speaking so she is glad to utilize her degrees.
If McMichael could make any administrative decisions, she would like for students to not be pressured into picking a major during their freshman year and would like for students to have more room to explore their interests such as seminars to learn what they do and don't want.