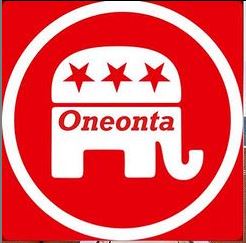 College Republicans at Oneonta |
"Cant believe this school allows for republicans to have a club how can this school support that" "scared of the new Oneonta Republicans club"
"wt* is republicans club? I REALLY dislike you musty b******"
"I say we find out when the next republican club meeting is and we riot and block the doors and cancel everyone that shows up for the meeting"
These are some of the many disheartening comments posted anonymously on a social media site in the last couple of days regarding our new club, College Republicans at Oneonta. Many people say they are concerned or scared by just our very existence. We would like to address these concerns and make a few things clear.
As of right now, SUNY Oneonta is one of two schools in the SUNY system that has College Democrats, but no College Republicans. Many students here that have come to our club meetings have all expressed one common thought – during their time here at SUNY Oneonta, they rarely are exposed to viewpoints or opinions from the right either in the classroom or in general on campus. We are establishing our chapter in order to provide more positive exposure to these right-leaning viewpoints in a positive, productive, and respectful way. Students, for example, who come from precincts of New York City that vote 95-5 for Democrats might be exposed to our club and hear a viewpoint they were unfamiliar with or did not understand. Balance, variety, and diversity are all things that make this fantastic campus we all share what it is. As of right now, in the opinion of our group, Republicans are the largest unrepresented group on campus. We aim to change that.
Another thing most of our members have expressed – they are happy that they have a place to go where they can find people similar to them – something important that the wide variety of clubs at Oneonta makes possible for almost all students. We are happy to be a place where Republican, center-right, conservative, and really all kinds of students can congregate, discuss, and participate in fellowship. Part of joining this fellowship is agreeing that bullying, harassment, and discrimination will not be tolerated by this group. We will not permit any kind of egregious acts.
We are extremely thankful to have the support of others, including the other political clubs on campus, those being College Democrats, Young Americans for Liberty, the Political Science Club, and Democracy Matters. These threats and harsh comments are not coming from these clubs or their leadership, and these clubs are also really worth joining if you are interested. On September 28th, all the politics-based clubs ran a drive for National Voter Registration Day on campus. I would say our successes at that table proves that people of all different backgrounds or affiliations can unite behind a common goal.
Unfortunately, while we understand there are members of campus who can be extremely hostile to people like us based on our identity, I hope that all members of the campus community can be welcoming and unite behind a common goal here as well – when it comes to College Republicans, in order to support our club, you do not have to support our cause, you just have to support our existence. We believe the existence of fairness and balance will be a positive thing for SUNY Oneonta, and we are thankful to be a part of a campus that does so much for students in terms of clubs and campus life.
If you are a student interested in joining us or just want to keep up with our activities, please follow our Instagram @OneontaRepublicans. Alternatively, you can send us an email
([email protected]) for more information.