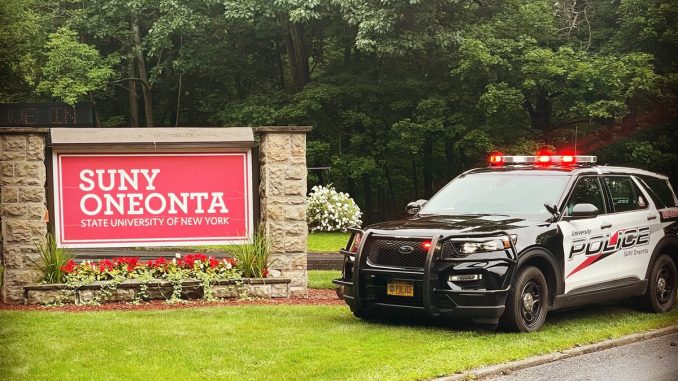 Alexa Di Palermo, Staff Writer |
Trigger warning: mentions of active shooters, fires, and medical/mental health emergencies.
As future teachers, the Association of Secondary Educators held a classroom safety event to teach all who are interested in working in a classroom how to be safe! There are many emergency situations that can happen in a classroom (or any school-related) setting, and it is best to be always prepared for them. Officer Brent McGrady talked to the group and began by discussing how to handle said emergencies on our own campus!
We began with asking basic information, more specifically, who is on campus to help us in a crisis? Where can we go? The answer is UPD (also known as the University Police Department)! They have their new building built on W Dormitory Drive. You can contact them by calling 607-436-3550 or using our campus' blue light system!
You can call them for many emergencies. One emergency you would definitely want to report to UPD is an active shooter or shooting threat on campus. If you ever do run into this situation, it is best to follow the avoid, deny, defend strategy. Avoid the perpetrator, deny them access to your space, and defend yourself against them. It may not be easy, but it would be best to protect yourself and others.
By avoid, it means being a critical thinker under the pressure. Hide, make it seem like wherever you are is empty, move quickly and leave belongings aside, keep your hands visible, and have an escape route. This keeps you out of the way from the perpetrator and keeps you prepared in all other possible scenarios. If you are to call law enforcement during this time, be sure to mention all information you are sure of. Do not guess.
Once you have gotten yourself to a place where you are hidden, it is best to deny entry to this place. Be it a room, a shed, a basement, or wherever you can hide. It is important to lock and/or block all entrances to your hiding space! If the door cannot lock, be sure to block the door with heavy objects and protect yourself. Stay away from the door at all times, and be prepared.
The worst-case scenario would lead to one having to defend themselves. In this case, you would have to use all of your strength to protect yourself from the perpetrator. If possible, try to get the weapon away from them. Remember to keep fighting strong and protect yourself!
Fires, although dangerous, are much more common situations. If you hear a fire alarm, do what we practice when we have fire drills. If you are close to the fire, remember to stay low, keep your mouth covered, and breathe slow. Help is on the way!
Lastly, we discussed medical and mental health emergencies. For any of these, feel free to call our emergency squad at 607-436-3550. Stay calm, provide the information you can, and stay with the person until someone arrives to help.
For more information, follow @oneontaupd on Twitter and Instagram!