Rachel Dobkin, Culture & Business Editor|
Eating healthy can be hard in college, but the Autumn Café has got you covered with a menu full of vegetarian and even vegan options. Whether you live on or off-campus, the Autumn Café is the perfect quaint place to go grab a bite and it's right here on Main Street!
I recently went to the Autumn Café and was pleasantly surprised. They seated us in their beautiful outdoor section. This space was buzzing with bees and flyaways from the flower boxes. There were plenty of umbrellas to keep you cool from the sun. There was even an outdoor bar for those of you who are 21 or older. The only thing I wish they had was music. It felt a little awkward without a low beat in the background.
The menu has a little sparse with only a few main options: sandwiches, bowls, burgers, fajitas, and salads. Originally, I was going to get the jerk chicken sandwich with blackened chicken, but I decided to be brave and substitute the chicken for tofu, which my server kindly did with no extra charge. Although the service was pleasant, it was slow. I went right before the peak of lunchtime, with few tables filled, and my food still took a decent amount of time.
When my food came, I was surprised at how big it was. I ate a whole block of tofu! They were not skimping here. The texture of the tofu was crunchy like blackened chicken would be and the marinade made it taste like you weren't missing out at all. I am not a huge tofu lover, but it was so good that I ate every bite. I did have to bring half home because of how filling it was. If you absolutely hate tofu, the blackened chicken was also very good according to my boyfriend who got the same meal as me without the substitution. The meal also came with delicious homemade fries and sweet plantains. For only $12, this meal was worth your money.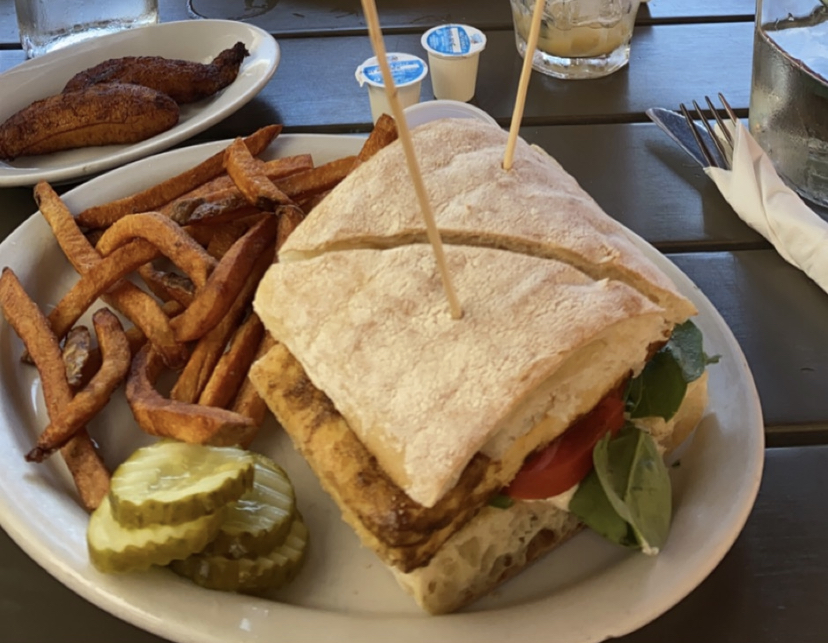 They also have a Sunday brunch menu with a build your own omelet and more vegetarian and vegan options. I did get a quick glance at their warm bowls before I left, and they looked delicious. I am going to try that next time I come. Their drink menu is something else with quite a few coffee cocktails. Even if you aren't 21 yet, I'm sure a virgin cold brew martini would be delicious.
With red meat being classified as a class one carcinogen, it's great to have a restaurant with more vegetarian and vegan options. Dining halls can sometimes be rough, especially for those with dietary restrictions. The good thing about the Autumn Café is that it is just a bus ride away. Get off at the first stop and you'll be there in two minutes! Even if you are a meat lover, there are some classic burgers, fajitas, and more, although I nudge you to be a little more advantageous. I was and it paid off! So, over the weekend, grab some friends and enjoy a great meal at the Autumn Café while supporting a local business.