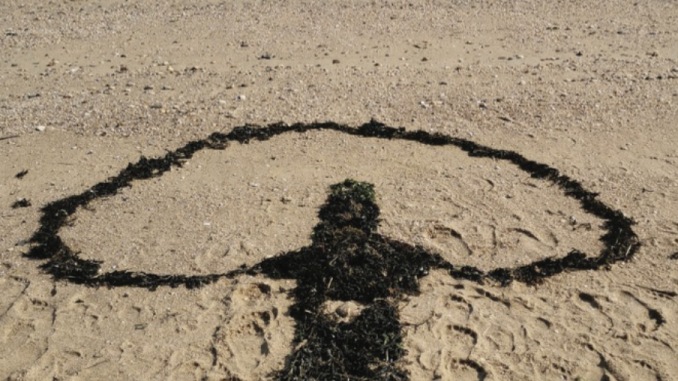 Chelsea Sookra
A Look into Leave Me With You! 
In case you missed Cynthia Fusillo's opening reception in the Martin Mullen Gallery, here is a recap.
Fusillo's work is just as marketed: sustainable. Every piece was made from sustainable materials. Walking in there felt like walking in the woods. It is not your typical art style, and many may have found it confusing or abstract. The art style is unique with the sustainable materials being in its raw form and not used to substitute wearable ones.
Her piece "Small Qipao, 2020," is made from paper, thread, incense burns, and piper cone scales. Another piece was a pair of shoes constructed out of flowers on a tree stump with a silhouette of a person made out of dirt wearing a skirt made of tree bark. While you can't wear the piece, it shows what a dress made from that material would look like. Fusillo's art isn't for fashion though, it is sustainable materials in a different form; a form that is more interesting to us.
Fusillo's art was not the only thing catching your eye in the gallery. Statements were written in pencil across the white walls of every piece. The statements weren't captions of the name of the piece, but captions to add to the art. Each caption thanked the materials or the body art such as "thank you seaweed, thank you sand, and thank you hands." These captions added to the air of the gallery; be thankful for what's around you and celebrate the beauty. Fusillo isn't just thankful for the Earth in this gallery, she is thankful for those around her. "Homage to James Mullen, 2021" was a collage of a series of monoprints in variable dimensions thanking Fusillo's professor James Mullen whom the gallery was named after.
Fusillo's materials come from all over the: world China, Spain, Long Island, Queens, and even the parking lot of the Hunt Union. One of Fusillo's pieces was a man made from crushed pinecones that she drove over in the Hunt Union parking lot on accident. When she realized she ran over the pinecones, she realized she could make art out of it.
My favorite piece from the gallery was "Breathe, 2018" which was an image of lungs made from paper, thread, and wax and a tree branch that looks like lungs. It was a simple piece that I was drawn to. It reminded me of how we are connected to the environment. Our lungs are just like the lungs of the Earth; the trees that give us oxygen. We're all more like the grass we walk on than we think in our day to day lives.