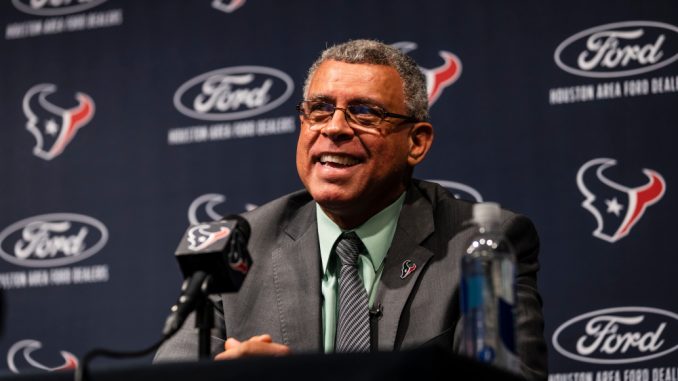 David Danniable, Sports Editor |
Each year in the NFL, it is becoming harder to understand how there are only a small number of people of color (POC) as coaches and general managers in the league. The only coaches of color who gained head coaching positions this offseason were former defensive coordinator, Robert Saleh, who was hired by the New York Jets, and David Culley, who was hired by the Houston Texans. Currently, there are only five head coaches in the NFL and that number seems to be the same or decreasing every season. The NFL does have a policy called the Rooney Rule that requires teams to interview at least two ethnic-minority candidates (rather than one) for head coaching vacancies. The rule also dictates that at least one minority must be interviewed for any open coordinator position. However, the problem with the rule is that it has yet to produce more coaches of color.
Two of the most deserving coaches who did not receive a head coaching job were Kansas City Chiefs' offensive coordinator Eric Bieniemy and Tampa Bay defensive coordinator Todd Bowles. Both coaches helped lead their teams to the Super Bowl and Bowles' defensive game plan helped the Buccaneers defeat the Chiefs. This offseason, less proven coaches such as the new Eagles coach Nick Sirianni were chosen for a coaching job over more qualified candidates such as Bowles and Bieniemy. In the past, white coaches hired by Andy Reid, head coach of the Kansas City Chiefs, have had no problem getting hired for head coaching jobs, the most recent being Doug Pederson and Matt Nagy. However, the only difference between them and Bieniemy is their race.
NFL commissioner Roger Goodell expressed disappointment that only two POC were hired for seven head-coaching openings despite a growing pool of qualified candidates. In an article from ESPN, Goodell said, "I'm not sure there's an issue we spent more time with our ownership on, our ownership is committed and focused on this." It is great to hear that the commission is still focused on the issue but at the same time, it is concerning that owners are apparently committed, yet only two coaches of color were hired.
According to the Institute for Diversity and Ethics in Sports, "The NFL rosters are 57.5 percent Black players and were as high as 69.7 percent in 2016. When the Rooney Rule was implemented NFL rosters were 69 percent Black, along with a third of the assistant coaches." Yet nearly two decades later, owners want us to believe there isn't a big enough supply of talent from that deep pool of retired Black players or assistants to climb the coaching ranks all the way up to a head coaching job. Instead, owners consistently choose candidates that have less experience or no experience in the NFL, but are white.
While the NFL has tried to promote teams to hire more POC candidates by updating the Rooney Rule, for real change to start, the league must drastically change the rules they have in place. The first change that will need to be addressed is the number of POC candidates required for each open position. Clearly, requiring teams to only interview two POC coaches for the head coaching position and only one POC coach for the coordinator position isn't enough. The NFL must consider increasing the number of POC coaches required for each position. Personally, I think that the NFL should consider proposing a new rule that requires teams to interview an equal amount of POC coaches as white coaches. I feel this way because a high number of minority coaches are being ignored that have proven themselves not only as a player but as a coach in the league.
Tampa Bay's offensive coordinator Bryon Leftwich was one of the unlucky coaches who did not receive any interest from teams despite coaching a top ten offense and winning a Super Bowl. Leftwich also was a former quarterback in the NFL and played ten seasons. Based on his experience and accomplishments, how did he not receive interest from any teams?
Despite the NFL's efforts to encourage teams to hire more POC coaches, they still have a long way to go before they start to see positive results. One of the biggest problems is that there are zero POC owners out of the 32 teams in the league. Unless drastic changes are made to make owners pay more attention to POC candidates, most likely we will see little change in the upcoming years.