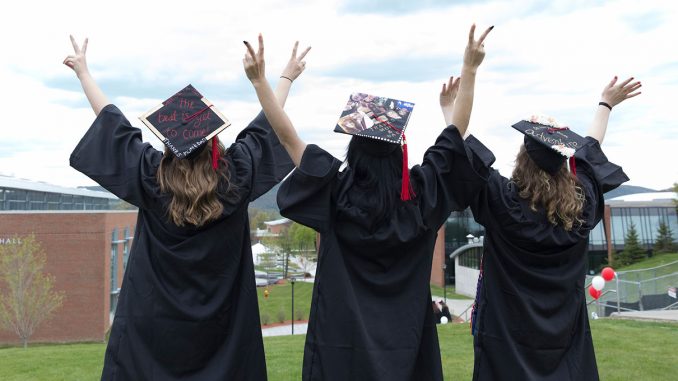 Hannah Lonergan, Staff Writer |
The senior year experience is a culmination of four to five years of working hard in college. Many look forward to spending the year with their friends and making the most out of their final time in undergraduate.
Since the COVID-19 pandemic changed the way SUNY Oneonta runs, many seniors are reflecting on their final year and how their second to last semester has gone.
Hannah Whitcomb, a senior biology major, knew the semester would be different because of how the Spring 2020 semester played out. Having two classes, dance and a geology lab, going from in-person to online has been a little challenging for her. Whitcomb's dance class has been going as smoothly as possible but limits what they can do. "We can't do anything across the floor or extensive technique due to limited space." According to Whitcomb, labs have also been difficult since there is a lack of hands-on learning, which has been setting them back.
Students have been taken to social media to discuss the changing workload. Many believe that the coursework is more than usual. Whitcomb notes that some professors are understanding the situation but "some professors have doubled the work for the classes." Frustrated with the way the senior year has been going, she believes that this is the best way for everyone to be safe. She explains "I feel like my senior year is being robbed and there is nothing I can do about it."
Eric Gage, a meteorology major, agrees that labs have been hard to learn online. Gage sees a silver lining in this situation, since "it's nice to not have to take a bus to class every day." Despite some internet challenges, Gage says everything has been about the same as the last few semesters.
Some majors are better acclimated to the online environment. Christopher Kennedy, a computer science major, says that he didn't have any in-person classes and his major is taught easily online. The workload has been stressful, with a new topic each week and a project due the week after, he says that nothing has really been sticking. Still, Kennedy will miss the atmosphere of Oneonta. He notes, "coming from large suburbs with a lot of big chain corporations, Oneonta is a lovely little town."
To keep up the senior spirit, many students are trying to keep up their traditions. Kristen Papitto, a digital and studio art major, has been going on adventures with her roommates on weekends. Papitto says, "We drive to Cooperstown, Ithaca and even stay in Oneonta trying to seek newness outside our virtual routines." Her workload varies from the usual load to being heavier than normal. Papitto attributes this to the homework being done in the same workspace as the creative space.
Papitto will also miss seeing professors in the hallway in between classes. In regard to how next semester will play out, Papitto doesn't want to get her hopes up but thinks that "it would be really great to have the opportunity to safely meet the professors. I'm graduating after next semester and they're my support system as well as the people I look up to so it would mean a lot to me just to be able to chat in the hallways again."
These seniors are still looking onward to their last semester at Oneonta. Whitcomb is hoping that the Spring 2021 semester is a "little more normal than this semester and that it stays that way." Kennedy believes that next semester should be a little more organized online but is hesitant that in-person classes with students wearing masks will last.
Despite the pandemic reworking our classes, seniors will continue to preserve through all of the obstacles of online learning that come between them and graduation.