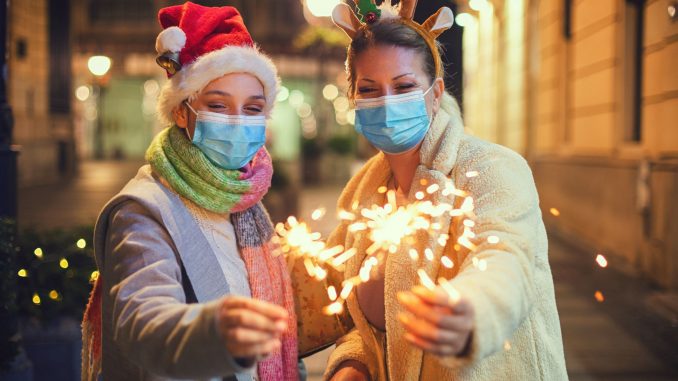 Isabelle Torres, Staff Writer |
With the holiday season fast approaching, people are getting ready to put up their decorations and are preparing for their holiday plans. With COVID-19, the holiday season may look a little different than years past. Large family and friend gatherings should be limited and some traditions will be canceled entirely because of the virus. However, there are still ways to safely celebrate the holidays with family.
The Center for Disease Control and Prevention has put out some guidelines to help families plan accordingly. With positive COVID-19 cases rising around the country again and the colder months approaching along with influenza, it is necessary to be cautious and conscious of your surroundings. In a statement posted on its website, the CDC wrote, "These considerations are meant to supplement- not replace any state, location, territorial or tribal health and safety laws, rules, and regulations with which holiday gatherings must comply." They offer advice to help plan celebrations, including assessing the current COVID-19 levels in your community to either postpone, cancel or limit the number of attendees.
A low-risk option is to have all activities held virtually with friends and family or just celebrating with household members. In-person gatherings will pose varying levels of risk depending on the duration, size and location of the event. Outdoors is a more favorable alternative to an indoor party as there is more air for ventilation and space for a six-foot distance between attendees. Shorter parties are ideal, to help reduce exposure. All gatherings should include social distancing guidelines, wearing a mask, six-feet distance and frequently washing hands for a minimum of 20 seconds. Hosts should also be aware of attendee's potential exposures and if they have been traveling to and from "hot spots." Consider asking them not to attend the event or suggesting a two-week quarantine before the date of your party.
Traveling for the holidays increases the risk of getting and spreading COVID-19, especially on public transportation or planes. If you are traveling for the holidays be sure to maintain social distance guidelines throughout the entirety of your trip. Where you are traveling to and from is something to consider. If you are coming from or going to a "hot spot" area it may be best to stay home. If you are planning to do holiday shopping it is recommended to stick with online shopping and delivery instead of going to crowded malls and stores. Pre-preparing food and contactless delivery for others outside of those living with you is encouraged as an alternative to gathering for a meal.
"Some people in this country are going to be able to have a relatively normal type of a Thanksgiving, but in other areas of the country, it's going to be, 'You better hold off and maybe just have immediate family, and make sure you do it in a way that people wear masks, and you don't have large crowds of people,'" Dr. Anthony Fauci, director of the National Institutes of Allergy and Infectious Diseases, said in a recent interview with CNN. While planning for the holidays it is important to keep in mind the health and safety of your family and those around you.