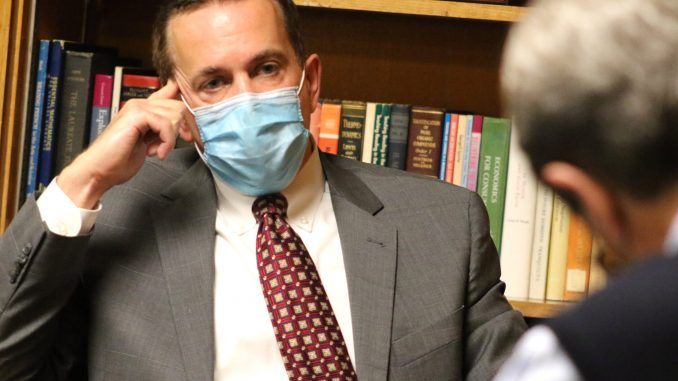 Daniella Fishman, Culture Editor |
Part 2
Acting President Craig agreed to be interviewed by The State Times as a means of communicating to the student body on a more personal level. If you have any further questions for Acting President Craig, please email [email protected].
F: Now time for some questions directly from students. First up, we received a lot of questions about your dog. Can you introduce the students to Beckett?
C: Hahaha, yes. Beckett will be nine in February, I got him in 2012. I waited about 25 years before I actually got a dog, even though I've always wanted one. After traveling for so long, and finally coming to a point where I could have a dog, I got Beckett. It's been the best decision I've ever made. I've had him since he was 8-weeks old. We all have days where we feel depressed or challenged. But, Beckett wakes up and his brain is just wired to be happy! He reminds me to try and look at life through a dog's perspective, he's a reminder to be happy.
F: Before the semester closed out, RAs went on strike to protest the unfair treatment during the superspreader event of Fall 2020. What will the college do to continue that conversation, what will be put in place to prevent that kind of abuse again?
C: I heard a little about that, but it all seemed to be put on pause once the school closed. However, this situation needs to be addressed. I spoke to Franklin Chambers, Director of Student Development, and expressed how I wanted to set up a meeting with student leaders, RAs included within that conversation. Because I wasn't here during these happenings, it will be in my best interest to find out what happened through those affected by it. We need to discuss what the roles of RAs should be versus what responsibilities should be given to other faculty?
In terms of being an RA during a pandemic, I am not in favor of RAs having a roommate, but that seems like that will be an issue in the long-term.
F: There seems to be a lot of miscommunication regarding who is actually in charge of what, and who is blamed for it. This is why it's so important to the student body to see you and your team taking initiative and taking accountability.
C: Yes! In the future it will be beneficial for us to have a Town Hall where student input will be the primary focus. It would be a way for students to understand how we're funded, what the state appropriation process looks like, where the money is and how much goes to where. Sometimes when students see something going on in one building and then nothing going on next door they'll think "well why are you prioritizing this space instead of all of them?" and frankly, it just doesn't work like that. It's very complicated but the students deserve to know what goes on. In the colleges I used to work at, we had these educational Town Halls fairly frequently.
F: How are you going to make us feel like a strong community again?
C: Well I think we all need to make one another feel strong. I think it's a mistake to put everything on the back of the president, I can't do everything myself. But I'm not going to stop doing what I'm doing now. I will continue going out and talking to people and listening to them. It's important that people feel heard, and it's important that people know I'm visible, that they don't think of me as a robot. I participate in the campus, I eat here. My weekly reports are designed to keep the student body informed with everything I'm learning.
I would love to introduce the students to more faculty that work in the college, people who have the same mindset as me. The spaces just haven't been made apparent to them. If in three months I'm still putting out messages from the Office of the President, then I've failed. But we are in a good place, we are listening and we're hearing the community.
F: Thank you so much President Craig, for this insightful interview. I and the student body greatly appreciate your openness to talk to us. We look forward to seeing what is to come in the future.