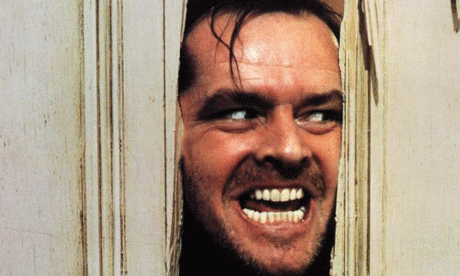 Hannah Lonergan, Staff Writer |
Oneonta Film Club hosted a virtual film discussion series for those who are stuck inside and need something new to watch. Since gathering restrictions due to COVID-19 are still in effect, one resort for entertainment we can fall back on is film. They hosted a discussion for "The Shining" (1980) a Stephen King adaptation directed by Stanley Kubrick on Wednesday, Oct. 14 at 7 p.m. on Microsoft Teams.
"The Shining" follows the Torrance family as they move as caretakers to an isolated hotel so that the father, Jack Torrance, can work while trying to get rid of his writer's block. As winter surrounds the family, Jack begins to unlock the dark secrets within the Overlook Hotel – threatening his sanity and his family in the process.
The film had its thirtieth anniversary this year in May – just in time for the wide-spread isolation that began just a few months before. Oneonta Film Club's President, Jacob Provenzano hosted the event with the club's advisor, Dr. Laura Felschow who led the discussion.
If you have never seen "The Shining," it is considered a cult-classic, horror movie essential, and you should consider taking the dive into it. Dr. Felschow points out that it is a piece of media that rewards repeat watches – so you should always be on the lookout for more details the next time you watch.
Dr. Felschow started off with a low-stakes question of whether or not we liked the film, getting mixed reactions. Provenzano stated that while it's not his favorite film, it is still really good.
Branching off of the previous question, we discussed why Stephen King doesn't like Kubrick's version of the story. According to Dr. Felschow, the plot in King's book is more of a supernatural, haunted hotel narrative rather than one about domestic violence. Though club members pointed out that Kubrick may have made the conscious discussion to center Jack Torrance as a domestic violence offender to make the plot more "accepted."
Another attendee noted that centering the narrative on Jack gives the film "a more grounded story based on character."
With a small group, the film discussion felt like an informal conversation rather than a class. The club discussed how "The Shining" utilized new filming technology like the steady cam. The steady cam is strapped onto the camera person and goes with the person's movements, so there was no shaking from being hand-held. Specifically, the steady cam was used when capturing scenes in the hotel's long hallways, to make it feel as though you are floating but it was not used in a scene where the characters are fighting on a staircase, as things begin to get chaotic.
Discussing other features of the film such as colors, the use of symmetry and even the role of unusual architecture – the discussion hit a variety of topics that didn't center one perspective.
There was also mention of a fan theory that suggests Kubrick may have staged the moon landing and "The Shining" has something to do with this. There is even another film, "Room 237" (2012) that discusses many other conspiracies.
The themes in the film get serious, introducing topics of class, race, gender, mental illness and abuse. However, the film also has a history of alleged emotional abuse towards its actors. Shelly Duvall, who played Jack's wife Wendy, was emotionally exhausted from acting during the filming.  One scene supposedly took a record 127 takes, only using the last take for the film.
Provenzano noted that they've been "trying to change what film club actually is for about a year." This was Oneonta Film Club's first event of the semester, and they are looking forward to continuing the film discussion series into November.
Oneonta Film Club is also hosting another film discussion featuring "Hereditary" (2018) directed by Ari Aster on Wednesday, Oct. 28 at 7:00 p.m. on Microsoft Teams.