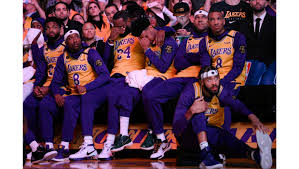 David D'Annibale, Staff Writer |
The Los Angeles Lakers overcame many obstacles this season to defeat the Miami Heat in a six-game final series, leading them to win their seventeenth championship. By winning this championship, the Lakers were able to honor Kobe Bryant and his daughter Gigi Bryant who passed away in January after a helicopter crash. This NBA season was endangered to be canceled due to the spread of COVID-19 and the season was suspended on March 11.
Before the league was suspended, the Lakers were 49-14 and viewed as the number one seed in the Western Conference. Despite fears of COVID-19, the NBA planned to quarantine every team in Orlando and then have the season start after a few scrimmage games. On July 30, the Laker season restarted as they played their rivals, the Los Angeles Clippers, and won 103-101. The remainder of the season didn't go well as the team finished with a record of 3-5 in the bubble and lost the last game to the Sacramento Kings. Despite the slow finish, the Lakers entered the playoffs as the number one seed and played the Portland Trail Blazers in the first round.
The series started poorly for Los Angeles as Damien Lillard led Portland to a win in game one. The outcome of game one didn't destroy the confidence of the Lakers as Lebron James and Anthony Davis took accountability. The Lakers went on to win the next four games and advanced to the semifinals to take on the Houston Rockets. Once again, the team dropped game one of the series 112-97. However, The Lakers were able to overcome the loss, rallying again to win four straight games sending the Rockets home as they advance to the Western Conference finals to play the Denver Nuggets. In the first two games, Los Angeles was able to win with game two being decided by two points. The Nuggets' only win of the series was game three as the Lakers won the final game of the 117-107 on September 26. The Lakers returned to the NBA finals to take on the Miami Heat.
Like the previous series, the Lakers jumped out to a 2-0 lead after winning the first two games of the series against Miami. The Heat won game three by 11 but lost the next game by six. Facing elimination, the Heat held on to win game five after Danny Green missed a wide-open three-pointer to tie the game. In-game six of the finals, James led the Lakers to a 106-93 win, and to earn his fourth championship. Bryant told the Lakers before the season that they would win a championship and the team was able to make that prediction correct. James and the Lakers will look to repeat next season as they look to keep performing at a high level.