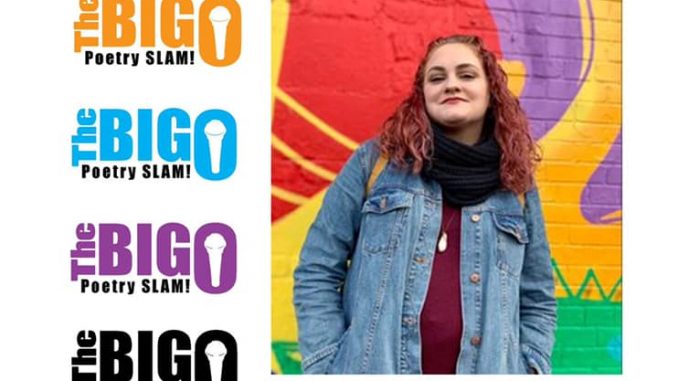 Hannah Lonergan, Staff Writer |
Poetry Slam Association (PSA) kicked off their number 174 Big O', now virtual, Poetry Slam on Microsoft Teams on Wednesday, Oct. 7 at 7:00 p.m. The feature poet for the event was alumna Katie Hébert, class of 2019. PSA's faculty advisor, Robb Thibault, also attended to spotlight students in Microsoft Teams.
The environment of the online slam was pleasant, with ambient Pokémon music playing to lighten the mood. The slam kicked off around 7:05 p.m. with a content warning and an opening poem performed by PSA's president, Spencer Potter. During the introduction and content warning, Spencer spoke to the honest and heavy content of the poems we might hear, referring to mental health, identity and relevant social issues.
Potter then introduced Hébert, a former member of PSA. Hébert's introduction described her as "a queer poet and writer from NYC," adding "When she isn't writing, performing or talking about intersectional feminism, you can find her wandering the five boroughs and Long Island, napping or fangirling over Harry Styles."
Hébert's first poem of five was a performative piece full of theatrical gestures and emotion. "A Coming of Queer Story," which was formerly known as "Gay Fairytale," set the stage for Hébert's set. She followed it with "y(our) heart is," "Mom's Cheesecake Always Tasted Better," a gripping story somewhat about the Cheesecake Factory, "Alive" and "Olaf." The final poem that Hébert shared, "Olaf" picks up on a theme from the first poem, tying in the conventional happiness of Disney characters and not relying on them.
Hébert has poems as early as from kindergarten. She got into spoken word poetry around tenth grade, when she began seriously writing poetry after being encouraged to keep a journal. She began "slamming" – performing in poetry slams –after it was recommended to her by a few friends during her time at Oneonta.
Spoken-word, coming from black and indigenous cultures around the world, is a poetic, oral performance that can also be based around storytelling. "Slam" is more of a competition where performances are scored. Hébert acknowledges that this might deter some, but also sees the score as a reason to improve.
Wednesday night's poetry slam turned into a free space for anyone to share poems that they have written or are working on. Several students took the opportunity to share their writing, without the event being a formal competition space. The safety of the space allowed me to feel comfortable enough to share my own work. Having a supportive group to share something personal with was not what I was expecting when I joined the event, but it might have been what I needed.
When slams are held in person, 10 poets who sign up get randomly selected to perform. Props aren't allowed and each person is allotted three minutes to read their poem. The judges are five audience members who get picked before the slam begins, and can judge any way they'd like. Although it may be difficult, judges are urged to avoid bias. To help be as fair as possible, there is a 'sacrifice' at the beginning of the slam to serve as a baseline for the judges.
This semester, due to the pandemic and budget restrictions, PSA has been having alumni features to get the crowd warmed up. Now instead of five judges, there is only one who texts the scores to the host.
Potter says despite the obstacles that come from holding slams virtually, they are adjusting their format as needed. They hold meetings every Wednesday on Zoom at 5:00 p.m. where they watch poem performances, work on writing prompts, and have workshops.