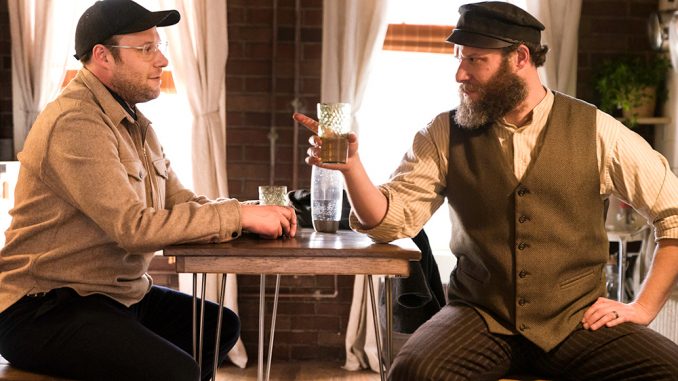 Jake Iannuzzo, Contributing Writer|
I pressed play on "An American Pickle" and expected it to be like most other movies starring Seth Rogen. I anticipated it to be filled with juvenile humor, references to drugs and an overall lighthearted and goofy atmosphere. While "An American Pickle" has several humorous moments, it was a predominately serious film that was incredibly interesting and enjoyable to watch. I perhaps did not give Rogen the initial credit he deserved, as I viewed him as a comedic actor only. I had seen "Steve Jobs" and saw Rogen's impressive work depicting Apple co-founder Steve Wozniak, but his performances in renowned comedies such as "Superbad," "Pineapple Express," "Neighbors" and "Knocked Up" sometimes overshadow his talent as a dedicated film connoisseur. In "An American Pickle," Rogen plays both lead parts and shines as one of the most entertaining actors of this generation.
Based on Simon Rich's 2013 short story "Sell Out," the movie begins in 1919 with Herschel Greenbaum (played by Rogen) and his wife Sarah Greenbaum (played by Sarah Snook) immigrating to the United States after their village in Poland is overtaken by Russians. Upon arriving in America, the couple settles in New York and Herschel secures a job at the local pickle factory to provide for his wife and their young child. All is well until Herschel falls into a vat of pickles while trying to defend himself from rats. Immediately following this, the factory owner arrives and announces the shutdown of operations, trapping Herschel inside forever. Fast forward to 2019, the vat of pickles is discovered by teenagers at the abandoned warehouse and Herschel has somehow been completely preserved and is fully alive. His only remaining relative is his great-grandson Ben, who lives in Brooklyn and is able to take care of him. Ben (also played by Rogen) is a web developer looking for investors to support his new app.
While the plot seems outlandish and humorous, this movie is not labeled a comedic drama for no reason. Scenes depicting Herschel and Ben flipping through family photo albums discussing the legacy of the Greenbaum name fills the audience with nostalgia. Other touching scenes include Herschel marveling at Ben's wealth, which is a lot compared to 1919 but just average for 2019, and discusses making him and the family proud. Before he was pickled, Herschel used his savings to purchase two burial plots for him and Sarah, something he was very proud of and they both cherished greatly at the time. When Herschel and Ben return to this cemetery in 2019, it is initially very heartwarming until Herschel gets infuriated by the lack of maintenance of the graveyard and the new Russian Vodka billboard that is being set up right above them. Disaster ensues as he assaults the construction workers, leading to his and Ben's arrest. After posting bail, Ben realizes his criminal record will make it impossible to get investors for his app. This leads to him cutting ties with Herschel, eventually starting a chain of events that needs to be watched to be appreciated to the fullest.
Rogen revealed in an interview that he shot all the scenes as Herschel prior to shaving off his large beard and then shooting the scenes as Ben. This movie cements Rogen as one of the most talented individuals in Hollywood as he can add solo lead role to his impressive resume of writing, producing, directing and acting. Rogen steps away from the childish humor often portrayed in his previous works to a more mature movie, but he does not forget to make the audience laugh. Scenes depicting Herschel trying to understand modern life and new technology, specifically Twitter, are incredibly funny and keep the audience engaged. Undoubtedly one of my favorite movies of the year, I encourage everybody to check it out and see what should be considered one of Seth Rogen's best performances.