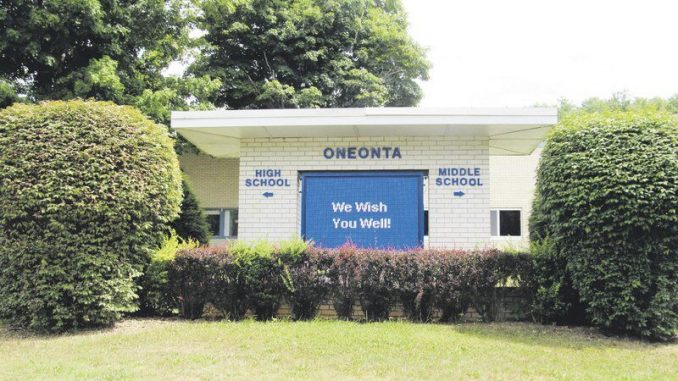 Isabelle Orientale Torres, Staff Writer |
Oneonta City's school district was one of the few districts that was approved for an extension for a re-opening plan for government officials still have to review. The district's plan was approved but did not seem to satisfy everyone.
The school, which holds kindergarten through twelfth grade, will continue with remote instruction from Sept. 8 to Oct. 9. The students will then begin a transition to hybrid learning in two groups starting Oct. 11. There will be three days dedicated to online learning with two days of in-person classes of either Monday and Thursday or Tuesday and Friday. Special accommodations will be made for special education and English Language Learning students. Secondary school students will be moving from classroom to classroom with face coverings.
Section IV has announced that the fall season for sports will be postponed until March of 2021. This comes after much anticipation to see what the fall season will look like. While students may be discouraged, the decision was made with their best interests at heart according to Laurens Central School District Superintendent Bill Dorritie in a letter addressing the postponement. There had also been some concern for the cost of bringing sports back amid the pandemic and the New York State aid and education cuts. Section IV released that 59 schools voted in favor of postponing while 10 voted against and one abstained. The fall sports season will move to "fall two" which will begin March 1. New York State Public High School Athletic Association (NYSPHSAA) moved all fall high-risk sports (volleyball, football and competitive cheerleading) to the fall two season. Section IV Executive Director Ben Nelson told the Daily Star that they will not be addressing the return of winter sports.
There have been zero new positive cases of COVID-19 within the district, making the total number of cases to two as of Oct. 2. District officials coordinated with Otsego and Delaware County health departments to develop a plan in accordance with state guidelines to deal with COVID-19 within the school. If a student or staff member is experiencing symptoms or has been diagnosed with COVID-19, they will have to self-isolate until 10 days have passed since the onset of symptoms. If there are no positive cases the building will remain open according to the plan. If there are four or more positive cases the building will shut down for 48 to 72 hours. If there are five or more the building will close for at least 14 days or possibly indefinitely.
Unfortunately, students at Oneonta City School District will be experiencing a far from a normal year in the midst of the COVID-19 pandemic. Students will have to learn and conform to this new way of education just as everyone is learning a new approach to their everyday tasks. Good luck to the students at Oneonta City School District on their return to the classroom this week!