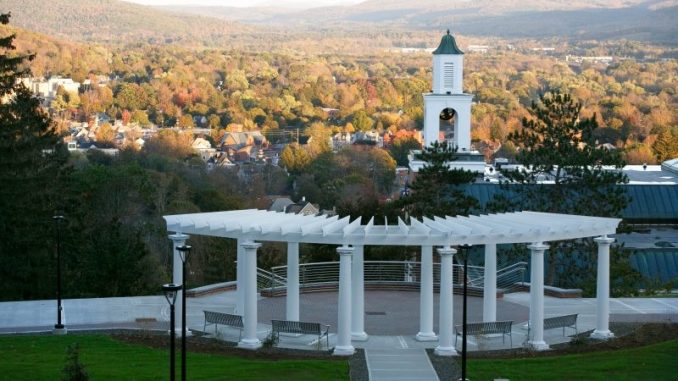 Isabelle Torres, Staff Writer |
The return to college campuses around the nation has varied for each university. Some decided to return to a fully normal, in-person schedule, others decided it would be best to stay fully remote and other schools have adopted a hybrid approach. Some schools require a two-week quarantine and a negative COVID-19 test result to return to campus, while others just suggested it. A few schools adjusted their schedules to account for a potential second wave of national COVID-19 case spikes, while others kept their original schedule for the Fall 2020 semester. Each school did what they felt would best suit their school, students, staff and the community around them.
Shortly after returning to SUNY Oneonta, students were sent back home following a major outbreak. The outbreak took only a few days to spread from a few cases to a total of 680 cases as of Sept. 23. SUNY Oneonta did not require a negative test result from students before returning to campus but asked students to self-quarantine for two weeks if coming from a state on New York State's Travel Advisory list, and one week if a state not on the list. Classes would run straight through to the end of November with no breaks with a fully remote curriculum after Thanksgiving break.
Classes were mostly online besides labs and some other physical classes that required students to be back in the classrooms. Dining halls were open for takeout, Milne Library was open with restricted capacity and Hunt Union was also open for students to use as a social area and study lounge. Campus residents were not allowed to have guests and were restricted them from going to other residence halls. Students were asked to fill out a daily health screening to keep track of students experiencing symptoms of COVID-19.
Hartwick College, standing just about a mile from SUNY Oneonta, had a different fall restart plan. With plans to fully return to in-person classes, the college required proof of a negative COVID-19 test result upon arrival to campus. Hartwick College adjusted its academic schedule to run until Friday Nov. 20 and not have students traveling back and forth from home to Oneonta for the holidays. Hartwick has been very strict with its visitor policy only allowing students, employees and restricted deliveries on the campus. They have closed the campus to the public to help stop the spread and reduce likelihood of a potential campus outbreak.
After two students tested positive for COVID-19, the college immediately switched to remote learning for two weeks beginning Sept. 1. The college has since resumed in-person classes with only a few classes being online. Some students have opted for a completely remote schedule and decided to stay home. Students who went home while classes were pushed to online are being asked not to return at all if they live in a "hot spot." Students and employees studying on campus will be required to get tested every other week. Hartwick has reported that, as of Sept. 19, they have six active cases of COVID-19, totaling to 16 detected cases since Aug. 1.