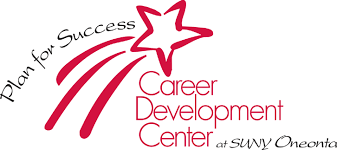 Kimberly Adler, Contributing Writer
Student Employee Appreciation Day will be observed by the college on Wednesday, April 15, 2020. It is a chance for departments, supervisors and the campus community to recognize the impact of student workers. This day falls in the middle of National Student Employment Week, which runs April 13 through April 17. Departments are encouraged to highlight and celebrate their student employees as they see fit. In the past, acknowledgements have ranged from the simple to the more elaborate. The advent of COVID-19 may have minimized our celebratory options, but a little creativity can go a long way in letting folks know they are valued. Consider sending thank-you emails, writing letters of recommendation, hosting a videoconference "party," or highlighting the contributions of your student employees on your social media channels. A classic, verbal "Thank you!" is always appropriate as well and never goes out of style (unlike handshakes)!

SUNY Oneonta student employees add much to the identity of our school by working across departments in many varied capacities. Nearly every department on campus enjoys the benefits of student workers. Student staff are often the first point of contact for visitors or prospective students. These individuals show countless others what it means to be a Red Dragon. Some students are even employed off-campus at local schools and non-profit organizations, contributing to the health and vibrancy of our local community. By learning both soft and hard skills, student employees gain valuable experience that makes for strong résumé material. Employment during college often helps set apart and elevate recent graduates when employers are looking to fill full-time job vacancies.

Even the Career Development Center owes its efficiency to the assistance of student workers. Student employee Brooke Morawiec had the following to say about her experience working in the department: "My favorite things about being a student employee are interacting with people all day and making some really great connections. I can't count all the laughs, thank you's, and smiles I've experienced through my job, both from other students as well as my wonderful coworkers. I wouldn't trade helping students find their dream careers and assisting in the planning of their futures for anything!"

The facilitation of career preparation is at the core of the Career Development Center's mission. The center's staff members often meet with students to explore how to best leverage part-time college job experience when taking that next professional step. Staff members do everything from demonstrating how to utilize online job search tools to assisting with the preparation of professional materials, such as cover letters, résumés, and graduate school applications. Students interested in these services should visit the virtual home of the Career Development Center to access resources or set up a meeting with a career advisor: https://suny.oneonta.edu/career-development-center

We hope you will join us on April 15, 2020 in amplifying awareness of and appreciation for the over 1,200 SUNY Oneonta student workers responsible for making our campus thrive. Thank you, student employees! Your contributions are profoundly important to the success and profile of our institution.
Message Courtesy of the Career Development Center