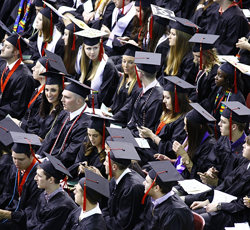 Daniella Fishman, Staff writer |
On March 26, after much anticipation, SUNY Oneonta announced the new date for the Spring 2020 commencement, with the ceremony now taking place on Saturday, August 29. The news has alleviated stress for some students, but it has left others upset that they will not be able to attend. With some students moving away and others committed to new jobs, this year's commencement will most likely see a low attendance of returning students.
Ethan Teper, a music industry major and senior, told the State Times that he felt as though the "semester hadn't started yet," and that "our last semester got ripped from us in the span of hours, not days, or weeks, but hours." Teper, well-known in Oneonta's music scene, has spent majority of his time here getting to know many performers and building relationships with students and faculty alike. Unfortunately, Teper's upcoming shows have been canceled, and he feels as though he cannot have a "farewell" performance as planned. Teper believes the scheduling isn't as bad for him as it could have been since there are numerous people "missing out."
Emalee Fico, a senior anthropology major, stated that though she is saddened by the postponement, she understands that it is the right thing to do given the current circumstances. "I do know that I won't be attending commencement just because I don't really see the reason to come back for my diploma once it comes to the end of the summer," Emalee told the State Times. "What hurts the most was the abrupt end to my senior year and the fact that most friends I will not be able to see again for a while; this was so unexpected."
Senior Rachel Walters, a psychology major, expressed her disappointment with the new graduation ceremony date, stating, "It's mostly just an inconvenience because at the point that commencement is rescheduled, I plan to be in a completely different place in my life. I want to be moved out to Denver by then, and it bums me out that my friends and I won't be able to have an official send-off with each other to celebrate the long haul that we've spent together at Oneonta."
While several students seem to be unable to come back for commencement, they all agree that postponing the ceremony was the correct thing to do. Whether they choose to come back or not, we here at the State Times want to wish every graduating senior the best of luck with their future endeavors. We are sad that their senior year had to end in such a disappointing way. We hope to see many of you back for Commencement on August 29.