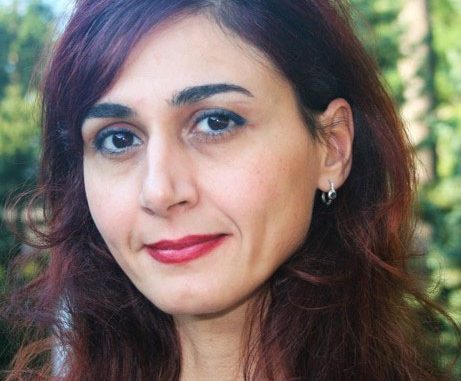 Robert Bensen, Contributing Writer |
Last week, the State Times published an article that contained incorrect information regarding a visiting author and poet, Rana Bitar. We sincerely apologize for the inconvenience and below you will find the correct biography and introduction for Dr. Bitar.
When Rana Bitar was a child in Damascus, Syria, her father would wake her from a sound sleep to come and read her latest poem to friends who had stopped by. "I would get out of the bed, feign being annoyed, but in fact I was giddy," she wrote in her memoir. "The privilege! I would walk with him to the living room where his friends would be discussing politics. I would read, and they would listen to the end. Then my father would carry me on his back, put me back in bed, and whisper, 'Good job.' I would hear his deep voice discussing my verses with his friends, and my heart would bubble with pride, long enough to keep me up a good portion of the night."
Rana would often spend many days in their attic, despite the stifling heat, reading novels, poems, and her favorite: a medical book where she discovered "the living truth that lay in my moving limbs and my organs. To know the truth of life through those masterpieces of literature was magnificent, but it wasn't enough for me. The world inside the body fascinated me the same." She would eventually complete medical school in Syria before coming to the U.S. in 1990.
Today Rana Bitar is a medical doctor of oncology and hematology near Albany. She is also a poet and a memoirist. Her work-in-progress "The Long Tale of Tears and Smiles" tells of her youth in Damascus, the war's devastation, coming to America, learning English, completing her medical training through internship, residency and fellowship and establishing both her practice and family life in her new home in upstate New York. Her smiles and tears are for her patients here and loved ones back home in Syria. "Some people don't want to leave home, but they're forced to. Some want to go home, but they can't," she says, thinking of her countrymen as well as her cancer patients. "When my house in Damascus was bombed in 2013, the vision of the empty, dark, and lonely broken rooms loomed in the back of my mind ceaselessly. I saw my childhood dolls thrown on the floor, my notebooks' pages yellowed with neglect." She wonders if she will ever be able to go back home.
She describes her first book of poems, "A Loaf of Bread", as a requiem for the loss of her homeland. During the years of the civil war in Syria, she lost her father-in-law who was hurriedly buried somewhere in Aleppo. Her aunt died alone in a besieged nursing home, her belongings stolen. Her father was flown ill around the U.S., seeking medical help. He never returned to his village in Syria and was buried in South Carolina. Dr. Bitar has followed "the struggle of her friends and so many thousands of others as they boarded rubber boats and floated to the unknown, some drowning in the sea and some in despair."
Rana Bitar will read from her work on Tuesday, February 18, 2020, at 7:30 p.m. at SUNY Oneonta. The reading will take place in Craven Lounge, Morris Hall, and is sponsored by the Red Dragon Reading Series Department of English, and the Office of the President. For more information, contact (607) 436-3446, or for directions, go to www.oneonta.edu/a/directions.