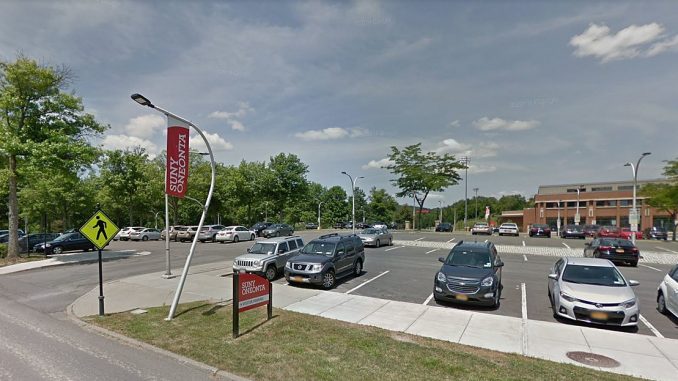 Erin Spicer, Staff Writer |
This past summer, the SUNY Oneonta campus updated some of its features, such as the parking lot located by the Hunt Union, as well as the crosswalks around campus. In addition to these upgrades, the campus parking lots have been re-allotted. The Hunt Union parking lot, which was previously a commuter lot with one row of parking designated for faculty, is now primarily allocated to faculty and staff parking. To make up for the loss of commuter parking at the Hunt Union, the Alumni Fieldhouse lot was converted into a predominately commuter lot. Another update to parking on campus this year is the increased price of parking passes. Last year it was $100 for a full year parking pass, and this year it is $135. While the addition of flashing lights and larger signs to signify crosswalks have greatly increased safety near parking lots, students have been experiencing other problems.
These changes to the parking lots have created several significant issues for those who commute to campus every day. Many students stated that they are finding it more difficult to find a parking space in the morning, causing them to be late to class. Senior, Sophie Billie stated, "After struggling with the parking situation the first few weeks of school, I realized that I had to get to campus earlier in order to get there on time. Now I just have to prepare better before classes so that I'm not rushing and then getting to class late because the only spot left is at the tennis courts." For those who don't know, the tennis court lot is located behind Hunt Union; this lot is the farthest lot from campus. Another senior, Alise Anson, commented, "The parking lots are so packed. None of the aisles in the lots are one ways, so people get stuck or almost crash. And it doesn't help when campus vehicles park in our spots because they can park anywhere, and they choose to go in our limited spots." Students are understandably frustrated about the lack of available parking spaces in addition to the raise in parking pass prices.
FNBF News Radio 1290
Some students have responded to the parking issue by carpooling, such as senior Danell Jones, "I carpool with my roommate whenever possible because it's usually a struggle to find parking. It's honestly a constant source of frustration for me." Another senior, Nicole Miliano, has stopped driving to class because "I just didn't feel like getting a parking pass because we live near the bus stop and didn't want to waste gas to get to class; plus it's really crowded."
Carpooling and taking the bus are two beneficial options that could help alleviate the parking situation at SUNY Oneonta. Not only does this create more available parking spaces, but both options are eco-friendly and cost effective. If you find yourself struggling to find parking, consider finding neighbors or classmates to carpool with or taking the bus.