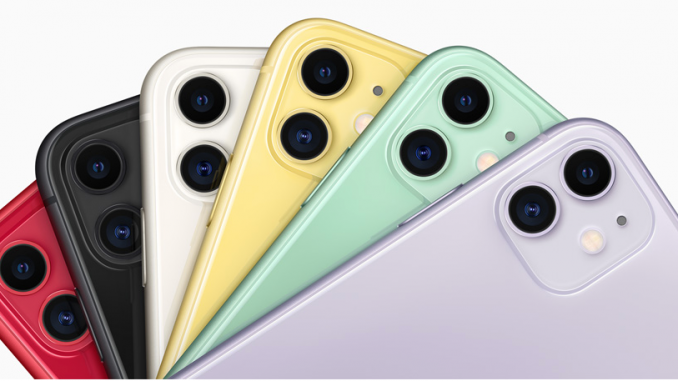 Jessica Kennedy, Staff Writer
Apple recently announced the new iPhone 11, iPhone 11 Pro, and iPhone 11 Pro Max. Set to be released on Sept. 20, 2019, these devices are described as an advancement in smartphones.
The iPhone 11 starts at $699 and is available in a variety of colors including purple, yellow, green, black, white, and red. As an upgrade to Apple's older phones, this smartphone has two rear-facing cameras that allow users to shoot both Ultra Wide photos and better quality photos and videos. On their website, Apple describes this new feature as being able to capture "four times more scene, it's great for landscapes, travel, groups, large interiors, and action shots." As for videos, the new iPhone can "shoot and edit the highest-quality video in a smartphone." Users will also be able to cut, crop, and edit their videos as easily as they can with photos. These cameras also offer a Night mode option which is a "feature that turns on automatically for low-light photos like you've never seen. There's no need for flash, colors are more natural, and photos are brighter," explained Apple.
The iPhone 11 Pro starts at $999 and its larger version, the iPhone 11 Pro Max, starts at $1,099. This phone is more advanced than the aforementioned smartphone with "the first triple-camera system to combine cutting-edge technology with the legendary simplicity of the iPhone." These three cameras can "capture up to four times more scene. Get beautiful images in drastically lower light. Shoot the highest-quality video in a smartphone – then edit with the same tools you love for photos," says Apple on their website. In addition to the new Ultra Wide camera of the iPhone 11, the iPhone Pro also has a Wide and Telephoto camera. These cameras all work together to create better quality pictures, an enhanced portrait mode with Portrait Lighting that helps create a studio-style picture with a smartphone, and automatically fine-tunes lighting and details to ensure the best-quality picture the phone can offer.
These phones upgrade in reliability with "the toughest glass in a smartphone" and an increased water resistance compared to previous iPhones. The phones also have an upgraded battery life said to last all-day and charge up to two times faster with certain cables and features wireless charging. Among other things, both phones also upgrade with their audio quality, easier and more secure Face ID, faster Wi-Fi, a dual SIM capability, and the ability to share audio between two pairs of AirPods or Beats headphones. The new iPhones all have an introduced feature called the "slofie" where users can take a slow-motion selfie. All these features are supposed to improve user experience and provide the best smartphone at the most affordable price. Among these new iPhones, Apple also announced the release of an updated iPad and a fifth series version of the Apple watch. The new Apple Watch is set to be released on September 20while the new iPad will be released on Sept. 30.