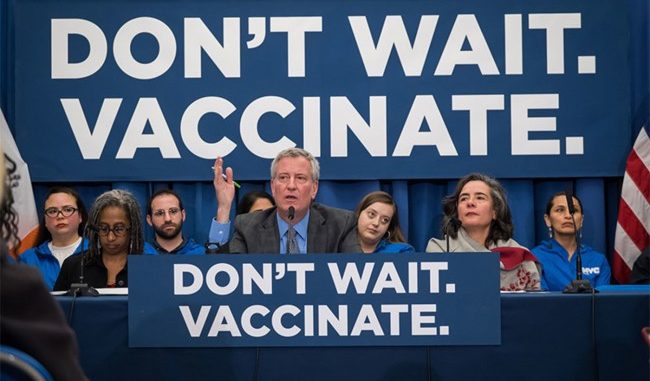 Casey McShea, Staff Writer |
New York City declared a health emergency on Tuesday, April 9, after a measles outbreak in ultra-Orthodox Jewish communities in Brooklyn. The emergency requires individuals living in Williamsburg, Brooklyn, to receive the measles vaccine. Those who do not comply face fines up to $1,000.
"This is an unusual action," Mayor Bill de Blasio said during the announcement, "and it's because of the sheer extent of the crisis. We cannot allow this dangerous disease to make a comeback here in New York City. We have to stop it now. We have a situation now where children are in danger. We have to take this seriously."
About 1,800 children in Williamsburg remain unvaccinated, according to Health Commissioner Dr. Oxiris Barbot. She emphasized that vaccinations are safe and effective, and the city would help unprotected individuals secure affordable and accessible vaccinations.
Since January 1, at least 465 cases of measles have been reported throughout the United States, according to the US Centers for Disease Control and Prevention (CDC). The first few cases to be reported came from Florida, Indiana, Massachusetts, and Nevada. Other states that have reported outbreaks and cases are Arizona, California, Colorado, Connecticut, Georgia, Illinois, Kentucky, Michigan, Missouri, New Hampshire, New Jersey, New York, Oregon, Texas, and Washington.
According to the CDC, the total number of measles cases nationwide this year "is the second-greatest number of cases reported in the U.S. since measles was eliminated in 2000." The largest outbreak since then was in 2014, when 667 cases were reported.
Measles is a highly contagious viral disease that mainly affects the respiratory system and can cause pneumonia, encephalitis (swelling of the brain), and death. The disease typically shows symptoms such as cough, fever, running nose, watery eyes, and a rash of flat red spots. It can be prevented by vaccination.
Organized efforts to encourage people not to get vaccinated have played significant roles in outbreaks. Members of the anti-vax movement often cite popular but repeatedly debunked misinformation to defend their choices. The "vaccine hesitancy" outbreaks are not exclusively occurring in the U.S., either. Japan, Costa Rica, and Vancouver have all faced some of the worst measles outbreaks in years.
Members of the anti-vax movement have even gone to the legal system to try and rebuke the new mandate. The emergency declaration was met with a lawsuit from five parents who claimed the city overstepped its authority by making vaccinations mandatory in neighborhoods experiencing the measles outbreak. The parents claimed that the mandate violated their children's "religious exemptions," and that forcing vaccinations would put their kids at risk. The CDC responded by saying, "Getting MMR [measles, mumps, and rubella] vaccine is much safer than getting measles, mumps, or rubella."
Deputy Mayor for Health and Human Services Dr. Herminia Palacio spoke more in depth about "measles parties," where parents will bring their children together to purposely expose them to measles.
"As a parent," Palacio said, "I have no doubt that each and every parent is making decisions based out of what they believe is best for their children. But as a doctor, a public health practitioner, and a mom, I must warn you that exposing your unvaccinated child to measles is very dangerous, and could even be deadly."