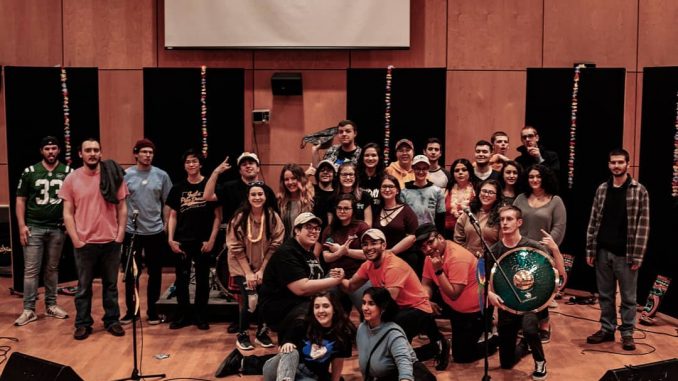 Kyora Wallace, Contributing Writer |
Tell Coachella to watch out; Oneonta is coming for the crown. This weekend WONY held their yearly music festival, WONY Island. WONY is our schools radio station, and this is the second of the two big events WONY does each year. Natalie Costanza was in charge of putting the event together and had this to say: "WONY Island is a way for our campus to come together to share a moment of togetherness through music. My vision for this event was to get as many different types of musicians together as possible to have a full afternoon of music. The event turned out perfectly."
WONY Island is a three-hour long event with musical acts from our school where WONY alumni show up and rock out with current students. WONY member and host of "It's Always Sunny with Palatino," Austen Palatino, said, "It's for people with a common interest for people in music and radio. It's always a blast." Now even though the show started a little late, there was no shortage of energy in the room from anyone.
Seven great performances gave the whole floor massive rock vibes, and I was living for it! The lineup included Asking for It, Rigid, Capital Crows, Ethan Teper, It Keeps Snowing, Just a Pipe Dream, and The Deep End. Each group played twenty to thirty minute sets and had the crowd up on their feet (well most of the crowd, I got tired). One of my favorites included Capital Crows. It's a  group from Connecticut including lead singer Ryan Milliken and guitar player David Fulton. "It was lit," Ryan said. David Fulton transferred schools last semester but he came back just for the show, and I have to say he definitely did us a favor. I've never seen someone go so hard on an acoustic guitar; it was insane.
Another stand out act was Ethan Teper. He was the only solo act on the lineup, but he didn't really need anyone else. He showed up with his little sailor hat, and he was definitely fun to watch. I asked him about his performance, and here's what he had to say, "WONY Island is a real fun experience. It's a great way for artists to be heard, and I'm proud to be part of it. With Ben Ayer on vocals for Just a Pipe Dream, Jeff Petit on bass, Matthew Ryan on lead guitar, Pat Torres on drums and a merch crew—these guys are pretty much already rock stars. Their performance was a huge nod back to my angsty emo days.
Everyone who performed on Saturday did an amazing job, and I'm so happy I got to be there and experience it. WONY Island was a great event and it was so cool to see so many students supporting each other. Speaking of support, most of the bands mentioned having EPs out so be sure to check those out and support our local musicians. You never know who you'll see in the lights.