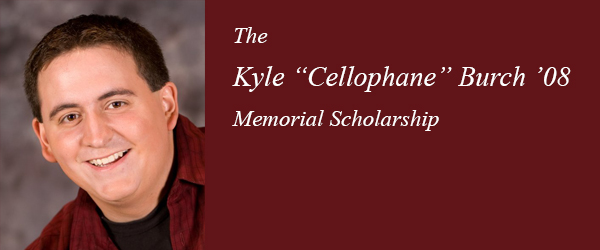 Kyora Wallace, Contributing Writer |
On Saturday night the Apollo Music Club, Mask and Hammer, and Alpha Psi Omega came together to put on a memorial concert for a Mask and Hammer alum, Kyle Burch. Burch was a theater student at SUNY Oneonta, was diagnosed with leukemia and later passed away. APO, Apollo, and Mask and Hammer with the help of music professor Dr. Colby Thomas put together a beautiful night in memory of Burch. Current students, alumni and friends of Burch all gathered in the Ballroom in Hunt Union to celebrate Burch and his love for theatre.
The Apollo Music Club president, Kenny Broke, said, "It was truly such an inspirational experience being able to sing along side some amazing alumni really showed me how powerful music can be, even in times of memoriam music had the ability to bring people together." The concert started with Apollo and the alumni singing "Seasons of Love" as a group. The club performed songs that celebrated Burch's memory, songs from shows he was in and songs he loved.
There was a performance that featured Shaun, a member of Orpheus Theatre Company and a friend of Burch's, wherre he sang a song from "Bye Bye Birdie" that he had loved, and there was a performance of "Runaround Sue." Theatre professor Andrew Kahl described him as a "remarkable ambassador" and a "phenomenal model." He said, "He made me integrate into this community in a way I don't think I could've. He made me feel welcomed." He went on to say that "the people who are here now are only a small portion of the lives he touched."
One of the things that stood out during the event was the color scheme. All the alumni wore green to honor Burch's Irish roots; it was also his favorite color. One of the alums, Kyle Beckley, also had no shortage of good things to say. "We were the Kyles," he said. "He was the center of gravity for this group of friends." He went on to say, "Having alumni come back to work with other clubs shows how welcoming and passionate he was." The concert wasn't only a celebration of Kyle Burch, but a celebration of unity. Caitlin Eccher, a senior in the Apollo Music Club described working the alumni as "super emotional." She went on to say "working with the alums was an incredibly intimate and personal experience through generations." The concert isn't the only way our school honors his memory.
The Kyle "Cellophane" Burch Memorial Scholarship will start to be given out in October of next semester. During the night an extra $250 dollars was raised for the scholarship. Colby Thomas referred to him as "the gift that keeps on giving," and his legacy will be one that gives light to the Theatre Department for years and years to come.
Donations can be made at Oneontaalumni.com. Search for the Kyle "Cellophane" Burch '08 Memorial Scholarship.