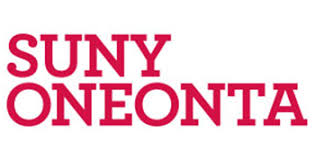 Samantha Brandifino, Contributing Writer |
Ever heard of the College at Oneonta Foundation? If the answer is no, you may not be aware that 1,000 students annually receive scholarships awarded by the foundation. The State University College at Oneonta Foundation, a non-profit organization, is a philanthropic organization existing for the benefit of Oneonta students and the college. It raises and receives charitable gifts and grants and is managed by a board of directors made up of alumni and three current students.
Paul Adamo, the college's Vice President for College Advancement, serves as the Executive Director of the foundation. Adamo returned to the campus in 1993 after his graduation in 1981 and has spent his career committed to improving student lives and enhancing the SUNY Oneonta educational experience.
Patrick McCann and Andrea Casper of the class of 1975 are the current president and vice president, respectively, of the foundation board.  McCann and Casper lead the 35-person Foundation Board of Directors comprised of alumni, staff, and current students.  As former Oneonta students themselves, they too feel a sense of pride in having been a Red Dragon and eagerly, along with their fellow board members, devote considerable time, money, and effort assisting our college and its students.
One of the things Adamo, McCann, and Casper agree on is that senior student athletes James Bethel and Julie Steinhauer have been outstanding student directors. All three alumni described Bethel and Steinhauer as dedicated, hard-working, engaging, and intelligent individuals who bring an invaluable student perspective to the board.
Bethel and Steinhauer are both accomplished student athletes who excel both in and out of the classroom and both have served the board for the past two years as student directors.
Bethel is a four time All-American and regional champion wrestler as well as the Omicron Delta Kappa National Leadership Honor Society Vice President. As a communication studies major, Bethel has been selected three times to both the NWCA Scholar All-American and ECWC All-Academic teams.  He is currently involved with an extensive research study about the prevalence of motion sickness among student athletes, which is soon to be published.
Steinhauer has been a four-year member of the Red Dragons soccer team and has been a team leader during her career. An international studies major, Steinhauer spent a month in Bangkok last summer interning for Sodexo, an amazing experience which ultimately led to a job offer upon graduation.
The foundation board of directors enhances the student experience by raising, receiving, and managing charitable gifts and grants provided by alumni and other donors. It is an organization whose primary function is to raise and invest funds in the form of an endowment. The board of directors oversees the disbursement of funds which is used for academic scholarships, internships, stipends for research, faculty development, and travel awards for educational and study abroad purposes. The foundation is a vital part of our campus community enabling students to attend college and participate in extracurricular programs by helping to defray the cost. The board also provides funds for the Alumni Field House, Milne Library, Cooperstown Graduate Program, and Biological Field Station.
Student directors act as ambassadors between the board and the college's students. As board members, Bethel and Steinhauer not only bring to the table their own unique perspectives as individuals but also a holistic student perspective. Steinhauer and Bethel are the bridge between current Oneonta students, its alumni, donors, and foundation board members.
Cheyenne Pommelle is the third student serving on the college foundation board of directors.  She is an honorary director this year after serving as a student director last year.  Pommelle is a senior majoring in biology, who has distinguished herself on campus academically and through her research at SUNY Oneonta's Biological Field Station on Lake Otsego. She plans to become a veterinarian, and one of the foundation's board members recently hosted her during a trip to Northern California where she explored applying to a veterinary program.
The foundation helps our students everyday through the support of its doners. Much of the funding comes from SUNY Oneonta alumni. Guess you can say, "Once a Red Dragon, Always a Red Dragon!"
For more information on the Oneonta foundation, check out its website at  suny.oneonta.edu/college-oneonta-foundation.