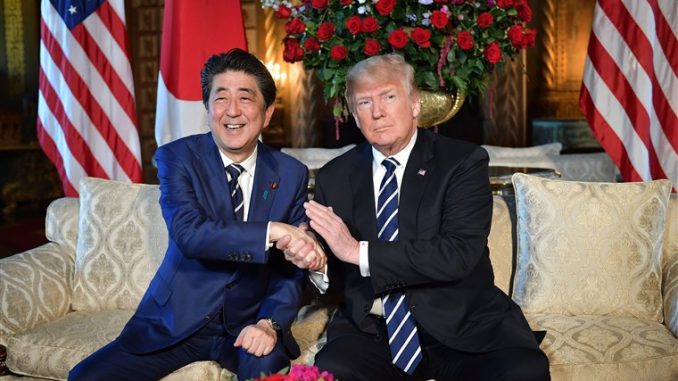 Julia Mirsky, Contributing Writer |
During a recent news conference in February, President Trump announced that Japanese Prime Minister, Shinzo Abe, has nominated him for the renowned Nobel Peace Prize. Trump also revealed that Abe gave Trump a copy of the five-page letter, which was allegedly sent to the Norwegian Nobel Committee, which chooses the recipient of the award, on behalf of Japan, vouching for Trump to receive the award. While it has not been confirmed that Abe has actually nominated Trump for the award, Abe has praised Trump publically in the past. According to CNN, Abe has refused comment on the truth of the matter saying, "…the Nobel Committee has decided not to disclose nominators and nominees for 50 years. I would like to refrain from commenting on it, based on that fact." However, this possible nomination may not have been unprompted. A national Japanese newspaper, Asahi Shimbun, published an article citing government sources that claim the United States government "informally" asked Japan to nominate Trump for the prize.
Trump expressed his belief with regard to the reasoning for the supposed nomination, explaining it was due to Trump's meeting with North Korean Supreme Leader, Kim Jong Un: "Because he [Un] had rocket ships and he had missiles flying over Japan, and they had alarms going off – you know that. Now all of the (sic) sudden they feel good, they feel safe. I did that." However, Trump remains an extremely controversial political figure; therefore, this nomination revelation has been met with both support and criticism. At a rally, Trump supporters could be heard chanting the word "Nobel" repeatedly. Contrarily, social media and late night talk shows have been mocking the nomination. On "Jimmy Kimmel Live!" Kimmel said. "He [Kim Jong Un] thinks Trump should win a Nobel Prize for peace. Hairpiece he said…"
According to the Nobel organization, there are currently 304 nominations for 2019, 219 of which are on behalf of individuals and the remaining 85 are for organizations. This is the fourth highest number of nominations ever. The current record was reached in 2016, with 376 candidates. There is a list of nine categories up for nomination, one of those being: "Members of national assemblies and national governments (cabinet members/ministers) of sovereign states as well as current heads of states." Abe meets this criterion and, therefore, is eligible to make a nomination. Anyone can be nominated, as long as the nomination is by an individual that qualifies in any one of those nine categories.
If Trump were to be awarded the 2019 Nobel Peace Prize, he would be the fifth United States President to receive the honor. Theodore Roosevelt was awarded in 1906 for his work to end the Russo-Japanese War; Woodrow Wilson, awarded in 1920 for his efforts toward ending World War I and for work in forming the League of Nations; Jimmy Carter, awarded in 2002, according to the Nobel Prize organization: "for his decades of untiring effort to find peaceful solutions to international conflicts, to advance democracy and human rights, and to promote economic and social development." Most recently, in 2016, Barack Obama, for "his extraordinary efforts to strengthen international diplomacy and cooperation between peoples," according to the Nobel Prize organization.