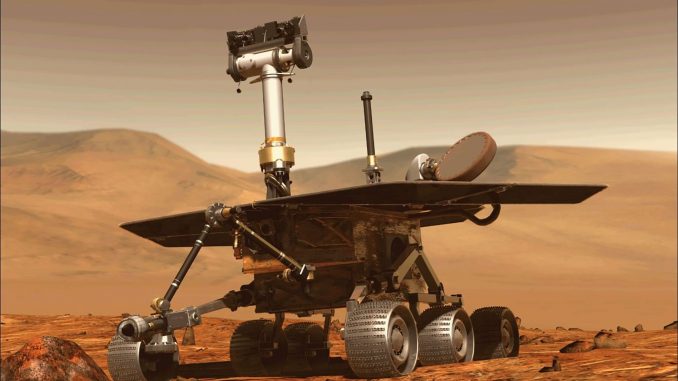 Casey McShea, Staff Writer |
On Feb. 13, NASA confirmed that the Mars rover Opportunity's mission has ended after the space agency's last attempt to contact the rover went unanswered.
The agency held a news conference to present the results of recovery efforts since a dust storm occurred on Mars last year. Thomas Zurbuchen, the associate administrator for NASA's Science Mission Directorate, said, "For more than a decade, Opportunity has been an icon in the field of planetary exploration, teaching us about Mars' ancient past as a wet, potentially habitable planet and revealing charted Martian landscapes. Whatever loss we feel now must be tempered with the knowledge that the legacy of Opportunity continues, both on the surface of Mars with the Curiosity rover and InSight lander and in the clean rooms of [NASA's Jet Propulsion Laboratory (JPL)], where the upcoming Mars 2020 rover is taking shape."
Opportunity, which was solar-powered, hasn't communicated with engineers since June 10, when she sent the message, "My battery is low and it's getting dark." Because of the dust storm, dust has blocked out sunlight, which was disrupting Opportunity's battery. Engineers tried different things to revive the rover, sending repeated signals and commands to attempt to fix other potential issues. They've sent more than 836 recovery commands that remain unanswered.
Opportunity, affectionately nicknamed "Oppy," was built to only last for 90 days and travel 1,100 yards. Despite that, she lasted for fifteen years and traveled 28 miles, sending back remarkable data and photos from Mars to help discover more information about the Red Planet. One of the most distinctive pieces of data she found were signs that liquid water had existed on the surface of Mars at one point, proving the planet had once supported condition for "sustaining microbial life."
When she landed in 2003, she began her journey in Eagle Crater before moving on to Endurance Center and Victoria Crater. Opportunity spent two years driving around inside Victoria Crater before moving on to Endeavour Crater and ending in Perseverance Valley.
"I cannot think of a more appropriate place for Opportunity to endure the surface of Mars than one called Perseverance Valley," said Michael Watkins, director of JPL. "The records, discoveries, and sheer tenacity of this intrepid little rover is testament to the ingenuity, dedication, and perseverance of the people who built and guided her."
Both the Curiosity rover and InSight lander shared their goodbyes to Opportunity in Twitter. Curiosity tweeted its farewell to Oppy with parodied lyrics to Elton John's "Candle in the Wind," saying, "It seems to me you lived your life / like a rover in the wind / never fading with the sunset / when the dust set in. Your tracks will always be here, among Mars' reddest hills, your candle's burned out long before / your science ever will. #ThanksOppy. I owe you so much." InSight wrote, "Dear Opportunity, You've had an epic journey of discovery during your 5,000+ days on Mars. You're a great role model and have set the bar high. I'm proud to carry on the tradition of seeking to understand this, our adopted home. *Emoji heart* InSight. From, A Martian Fan."
Over the course of  Oppy's radio silence, NASA engineers created a playlist of songs that were sent and played to the rover, hoping to hear something back. The first song to be played was Wham!'s "Wake Me Up Before You Go-Go," on Aug. 4, with hopes to inspire the robot to turn back on. The playlist includes other songs such as The Beatles' "Here Comes The Sun," Elton John's "Rocket Man," and Gloria Gaynor's "I Will Survive." You can find the full playlist, titled "Opportunity, Wake Up!" by space.com, on Spotify. Before the mission was declared over, one last song was sent to Opportunity— Billie Holiday's "I'll Be Seeing You."
"It's a song of loss and longing, but also very deep fondness. You know, it manages to sort of touch the sad without being melancholy," said Dr. Steve Squyres, the principal investigator of the Mars Exploration Rover Mission.