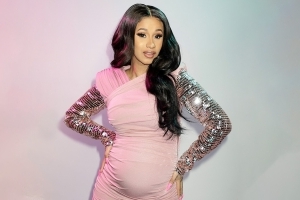 Kyora Wallace, Contributing Writer |
It's no secret that Cardi B is one of the biggest stars in music at the moment. We all know that she likes to keep it real—and her pregnancy was no different.
Cardi had her daughter, Kulture Kiari Cephus, back in July. She did an interview with "Harper's Bazaar," saying, "I thought I was going to avoid it. When I gave birth the doctor told me about postpartum and I was like 'well I'm doing good right now, I don't think that's going to happen'. But out of nowhere the world has heavy on my shoulders."
Back in July, a few weeks after giving birth to her daughter, Cardi took to Instagram to announce that she wouldn't be joining Bruno Mars on tour in the fall. In her post she explained, "I also thought I'd be able to bring her with me on tour, but I think I underestimated this whole mommy thing." In August, she then reposted comedian Jay Versace's video of him talking to his inner self, asking "who am I inside this body because I don't feel like it's me," captioning it with, "This is how postpartum got me. The emotional struggle. Bardi vs Belcalis."
It's great to hear Cardi coming out about things like this. Postpartum effects 1 in 10 women and unfortunately it isn't taken as seriously as it should be. Most people chop it up as just being hormonal or tired, but that's not the case at all. For her to talk about it openly is a step closer to ending the stigma.
She says she has started feeling better, but postpartum is only part of the struggle; she still gets aches and pains. "For some reason, I still don't feel like my body's the same." She explained, "I feel like I don't have my balance right yet. When it comes to heels, I'm not as good as walking anymore. I feel like I'm holding a weight on me. I don't know why because I'm skinnier than I've ever been. But there's an energy that I haven't gotten back yet that I had before I was pregnant. It's just the weirdest thing."
She also feels like she can't take her baby anywhere, explaining, "it's really annoying and we don't have a life. We have to hide her all the time. I can't go to L.A. or Miami and walk down the beach with my baby. I want to go shopping with my baby. I want to take a stroll with my baby. Sometimes I feel bad for her because all she knows is the house." Cardi has been hesitant on showing her baby to the world and didn't want to post pictures of her online at all. She told Jimmy Kimmel back in October, "I don't want to show my baby out to the public right now. I just want to protect her." Eventually, she did post a picture of Kulture—and she is adorable.
It all hasn't been a struggle; Cardi is known for her rants on Instagram and responding to negativity but the baby seems to be mellowing her out a little bit. She said "Sometimes I would see something online and it'll piss me off, and my baby would start crying or something and it's like, 'You know what? I've got to deal with the milk forget this." She seems to be really done with social media at this point. "I've noticed that every time you respond you just make things worse. So I'm just over it. I'm just over it. I really don't need it and sometimes it just brings chaos to my brain. Motherhood is a job that nobody can really prepare for." Cardi really seems to doing great now, and hopefully she continues on this path.