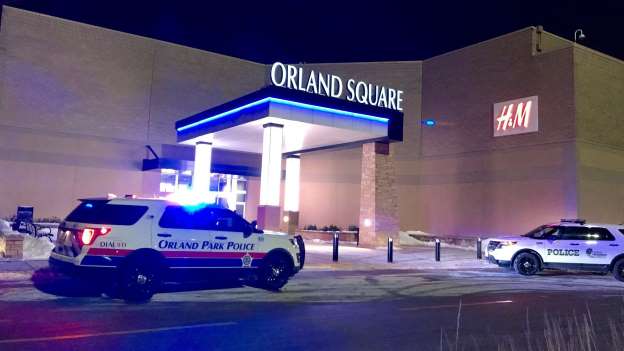 Casey McShea, Staff Writer |
Orland Park Police have identified the man they believe to have carried out a shooting at Orland Square Mall in Illinois on January 21. The shooter, 20-year-old Jakharr Williams, shot and killed an 18-year-old man and wounded another. The victim has been identified as Javon Britten of Richton Park.
Surveillance cameras captured the chaos that ensued when Williams first began shooting. Gunfire erupted in the mall's food court at 6:40 p.m. The footage shows shoppers and workers running. There is no audio.
Nail Hobson, Britten's mother, appeared on ABC7 Eyewitness News to talk about her son. "Javon was my angel. He was wonderful. He was so respectable. He loved me and I loved him. He had so many dreams. […] If he was here right now, I would just give him a big hug and tell him I love him. Because I've always told him, everyday. Those were his last words to me. He told me 'I love you, Mom,' and I said, 'I love you, too.'"
Lakeisha Kizer, Britten's cousin, also spoke, saying, "We just want you to know that Javon is not another kid or another black child who will be swept under the rug. His [life] mattered. He had a family who loved him, who prays for him, a praying family. He is our responsibility just like he is yours. This is not just something that happened within city limits, it's like a virus spreading. And our kids have nowhere to be safe. This young man was a high school student; they said on the news a man was killed—no this was a child. In high school. This was our cousin, a son, a brother, a friend. When you say your child's name tonight, say his name, too. Say Javon. Pray for him, because they are our responsibility as a community. Something has to change. This should not be the norm. […] This is an epidemic that has to stop and it has to stop now."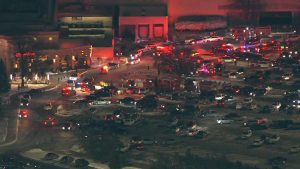 Police said Britten was shot in the chest and staggered a short distance before collapsing in front of shoppers. He later died at Christ Medical Center in Oak Lawn. The shooter had been seen in an altercation with Britten before pulling out a handgun and firing multiple shots.
Williams was taken into custody and charged, last Friday, with unlawful possession of a weapon by a felon, according to authorities. The Illinois Department of Corrections' records state Williams was on parole as of last June following a robbery conviction, with his parole due to end in June 2020. He also had a prior felony conviction in Will County for aggravated unlawful use of a weapon.
David Sotomayor, Williams' attorney, said, "The [Williams'] family is very remorseful for what occurred. They wanted me to specifically express their heartfelt sympathy for the family [of Britten]. Obviously, there were some problems between Mr. Williams and the decedent. They don't want this to escalate further."
Williams' initial appearance at the Bridgeview Courthouse resulted in Cook County Judge John J. Mahoney III denying bail for Williams. He is due back in court on February 8.