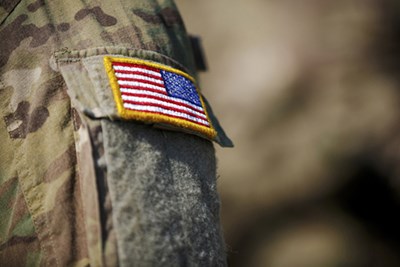 Casey McShea, Staff Writer| 
The United States Supreme Court permitted the Trump administration to go forward in implementing its transgender military ban last Tuesday with a 5-4 vote, reversing a 2016 decision made by the Obama administration to open the military to transgender service members. The policy, which the Department of Defense has reiterated is "NOT a ban," allows transgender troops to serve, but only if they do so in their biological sex, do not have a history or diagnosis of gender dysphoria, or can show a 36-month period of "stability" prior to military service.
Department of Defense spokeswoman, Lieutenant Colonel Carla Gleason, said in a statement: "As always we treat all transgender persons with respect and dignity. Department of Defense's policy is NOT a ban on service by transgender persons. It is critical that Department of Defense be permitted to implement personnel policies that it determines are necessary to ensure the most lethal and combat effective fighting force in the world."
The justices voted along party lines with the five conservative judges—Chief Justice John G. Roberts Jr., and Justices Clarence Thomas, Samuel A. Alito Jr., Neil M. Gorsuch and Brett M. Kavanaugh—allowing the ruling. The opposing votes came from Justices Ruth Bader Ginsburg, Stephen Breyer, Sonia Sotomayor, and Elena Kagan.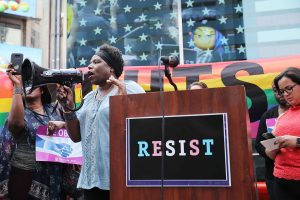 The policy was first announced by President Trump in July 2017 in a tweet that read, "After consulation with my Generals and military experts, please be advised that the United States Government will not accept or allow any transgender individuals to serve in any capacity in the U.S. Military. Our military must be focused on decisive and overwhelming victory and cannot be burdened with the tremendous medical costs and disruption that being transgender in the military would entail."
The ban bars individuals who have been diagnosed with a condition known as gender dysphoria, which is the medical diagnosis for someone who experiences emotional distress with one's biological sex, from serving, with limited exceptions. Not all people who identify as transgender have been diagnosed with gender dysphoria, according to the National Center for Transgender Equality, however the policy otherwise disqualifies any transgender person who has already transitioned or plans to transition physically.
By the government's numbers in 2016, there were approximately 8,980 service members that identified as transgender. During the Obama administration, 937 members were diagnosed with gender dysphoria and began or completed their transition.
The Pentagon policy temporarily remains on hold because of an injunction from a Maryland federal judge that is still in place, but it is expected to be put into effect in the next few days. A Justice Department official said the Pentagon will file a motion to dissolve the final injunction, and the ACLU believes the Maryland judge will follow the Supreme Court's move.
Many have spoken out against the SCOTUS decision. Shortly after the court's order, Speaker of the House Nancy Pelosi tweeted that the policy was "purpose-built to humiliate brave men & women seeking to serve their country." Laura Durso, Vice President of the LGBT Research and Communications Project at the Center for American Progress, called the policy "dehumanizing." She continued, "This is the cruel centerpiece of the Trump administration's agenda to prevent the full inclusion of transgender people in public life. It undermines the military readiness that this government will not protect them, not even those who would sacrifice everything to protect our nation."