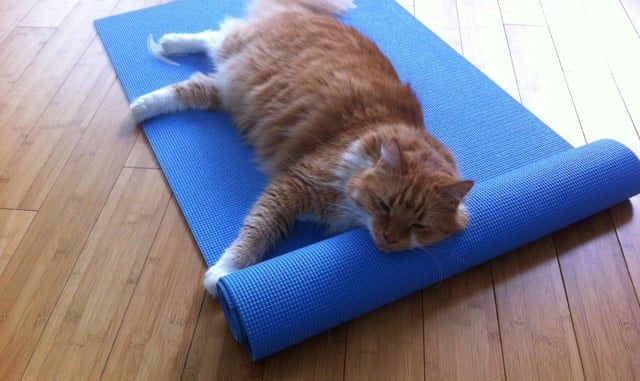 Maggie McCann, Contributing Writer|
With deadlines approaching and finals just around the corner, Oneonta Honor Society, Chi Alpha Epsilon, gave SUNY Oneonta students the opportunity to de-stress and relax from their studies by hosting "Yoga with Cats." It was a two-hour event on Thursday, November 8, in which students got the opportunity to hang out with four adorable kittens from Susquehanna Animal Shelter, located in nearby Cooperstown, NY.
Thursday night's event began around 6:30 p.m. in The Hunt Union Ballroom with about an hour of relaxing with the kittens using the toys and cat treats provided. The safety and care of the kittens were emphasized in Chi Alpha Epsilon's advertisement of the event; they stressed that "all cats will be fed, given water, and cared for by Chi Alpha Epsilon and the Susquehanna Animal Shelter, which will have a representative present at the event the whole time." The kittens' safety was a high priority. There were four kittens from Susquehanna Animal Shelter, three being domestic shorthair cats.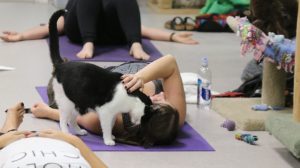 Around 7:30 p.m., a member of Chi Alpha Epsilon began yoga instruction. The yoga focused on balance and relaxation and the honor society's description of the event stated, "Yoga with Cats is an event designed to de-stress, which also promotes a healthy lifestyle." As students followed along with the instructor, the kittens continued to run around and play with toys. At one point, two of the cats started running around the instructor and eventually climbed up on her leg while she was in different poses, which got everyone in attendance laughing while exercising.
Participating in yoga was not mandatory. Many attendants opted to continue playing with the kittens using feathers and bells for the kittens to chase around the room. Between the relaxing yoga and playful kittens, there was no way anyone present wasn't calmed.
The event cost $5 for entry with all the proceeds going to the Susquehanna Animal Shelter. The Susquehanna Animal Shelter is a local Cooperstown shelter for cat and dog adoptions. The Susquehanna shelter cares for cats and dogs of all ages and breeds, and on their website you can view the many adorable animals up for adoption with names, information, and photos of each adoptable animal.
Thursday night was not the first time Chi Alpha Epsilon has worked with the Susquehanna shelter; last semester on April 18 the honor society hosted "Doggie Loving," which was a similar event with dogs in Hunt Union and an opportunity to adopt them. Similarly, the organization hosted a previous "Yoga with Cats" event last year on February 28 in the name of stress relief, as well as awareness for all the adoptable cats and dogs at Susquehanna shelter.
Chi Alpha Epsilon and Susquehanna shelter events are also opportunities to earn LEAD credit.