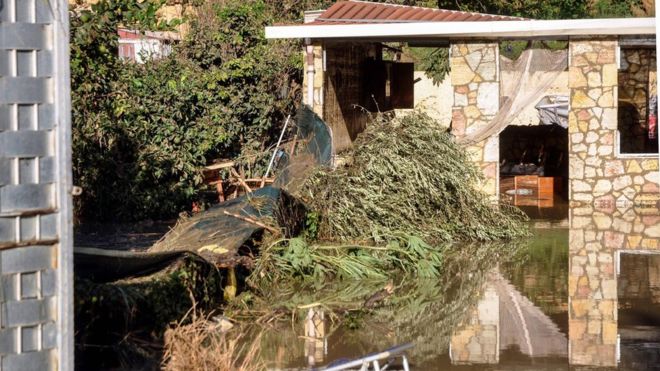 Casey McShea, Staff Writer|
A deadly storm in Sicily, Italy, left 12 more dead following the nationwide death toll of at least 30 that occurred as a result of severe flooding.
Nine members of two families were among those killed, as the house they were dining in was submerged by water from a nearby river that suddenly overflowed. Amongst the dead were children ages one, three, and 15. The other victims' ages ranged from 32  to 65. Three family members managed to escape, one by climbing a tree where he stayed for more than two hours.
One of the survivors, 35-year-old Giuseppe Giordano, said, "I lost everything, I have nothing left, just my daughter." Giordano lost his wife, two other children, his parents, brother, sister, nephew, and grandmother to the storm.
Violent winds and heavy rains have devastated part of the country over the past week, particularly in the north. The storm has caused the worst flooding in at least a decade in Venice, damages of more than 1 billion euros ($1.14 billion) in Veneto, and landslides that have cut off villages according to authorities. The civil protection agency called the storm "one of the most complex meteorological situations of the past 50 to 60 years."
Several of last week's deaths were caused by falling trees exceeding 190 kilometers per hour (118 mph) toppled acres of woodland, including the famous "Violin Forest" that provided wood for violin maker Antonio Stradivarius' instruments.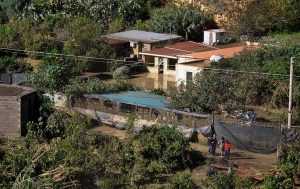 "Around 300,000 trees were flattened after winds swept through the Val d'Assa in the Asiago plateau," said Robert Ciambetti, president of the Veneto regional council: "Tens of thousands of tall trees were felled like toothpicks," he said.
Prime Minister Giuseppe called the Sicily situation "dramatic," and is scheduled to call a cabinet meeting to announce a state of emergency in affected regions.
Weather warnings have been issued via Twitter as Italy's civil protection agency continues to monitor the situation, while volunteers from the Italian Red Cross work to rescue people.
Strong winds have not helped flooding. Many of Italy's famous landmarks suffered from floods. Last week, much of  Venice was underwater as forceful winds drove the high tide to one of the highest levels ever recorded. St. Mark's Square became a lake, floodwater spilling across the floors of St. Mark's Basilica. Floodwaters also covered several dozen meters of the 1,000-year-old marble pavement in front of the alter of the Madonna Nicopeia, a twelfth-century icon, and submerged the Baptistery and Zen Chapel. Portofino, a fishing resort near Genoa which is a famed holiday resort on the Italian Riviera, was only reachable by sea after the main road collapsed.
This is peak time of the year for seasonal flooding, which increased the intensity of the floods from the storm. Because of climate change, high tide flooding has become much more common in Venice. Work to install innovative underwater flood barriers to protect the city from serious flooding, known as the Moses Project, has been underway for years. A spokesman for the civil protection agency in Venice argued, "Of course if the Moses Project was completed the damages [of the historic sites] we are seeing now would not have happened, but the project was not completed because of high cost."