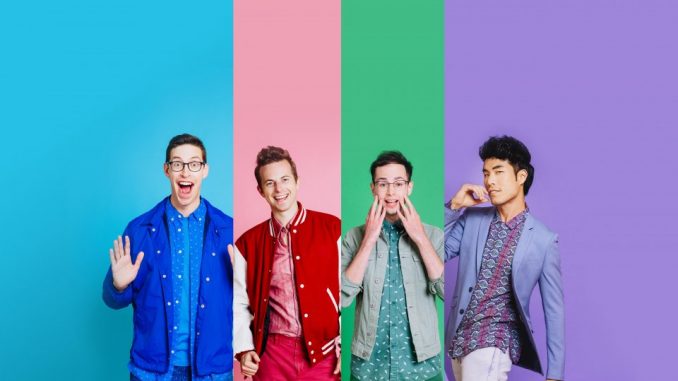 Maggie McCann, Contributing Writer |
On October 22, 2018, YouTube's most successful content creators came together for the eighth Annual Streamy Awards at the Beverly Hilton in Los Angeles, CA. The Streamy Awards, created in 2010, is an award show designed to celebrate and appreciate the best in online video creation. Monday night's show was streamed live on YouTube.
Hosted by BuzzFeed's "Try Guys," the night opened with a song performed by the four hosts, Keith Habersberger, Ned Fulmer, Zach Kornfeld, and Eugene Lee Yang. The song argued the Streamy Awards be regarded in the same tier as the Emmy, Grammy, Oscar, and Tony Awards, even including the line, "video killed the radio star, but internet saved the radio star."  Yang even performed in full drag for the entirety of the awards show.
The night continued as YouTube personalities such as Kalen Allen, BlameItOnKway, Molly Burke, Dobre Brothers, Miles Brown, Sofie Dossi, and many more presented awards to equally talented nominees. The first award of the night was the "First Person" award, and of the five talented nominees, David Dobrik managed to bring it home.
As the night went on, more than 50 awards were received including "Breakout Creator," won by Emma Chamberlain and "Comedy Series" won by "Liza on Demand," a YouTube Premium series starring Liza Koshy. There were also behind the scenes awards like a "Cinematography Award" won by Joe Sabia for the series "73 Questions."
At this year's Streamy's, a new award was given out: the "Milk-Bone Dog of the Year Honor." It was given to a select puppy to promote dog adoption from Milk-Bone. Gus Kenworthy, an Olympic skier, presented the award and shared his story of adoption, urging others to adopt dogs from Milk-Bone, like the one he brought on stage with him, a small puppy named Mikey. There were three stories shared, but the winner of the "Milk-Bone Dog of the Year Honor" was Todd, a dog who heroically saved his owner from a snake. Todd was bitten in the attack, but thankfully survived.
At one point during the show, the Streamy hosts came on stage with a message for the audience. Monday night marked the last night that Californians could register to vote in the midterm elections this November. In regards to that, the night's hosts urged the audience to vote because as one of the group's members Eugene Lee Yang says, "It's imperative, anyone who's over 18 needs to vote, encourage all of their friends to vote….And not only vote, but discuss the issues, and really understand what's happening politically in the country, because especially these days we need more young people to become more active, and not just tweet something, not just 'like' something on a post, but actually go out there, register to vote and make your voice heard."
The show ended with the last award of the night "Creator of the Year" presented by Annie LeBlanc and Tyler Oakley. Of the ten nominees, Shane Dawson won this year's "Creator of the Year" award. As Shane Dawson was not able to attend, Tana Mongeau accepted the award on his behalf. As Mongeau accepted his award, she noted she wouldn't be where she is without him telling her she is "the most inspiring, amazing, reinventing creator on this platform."