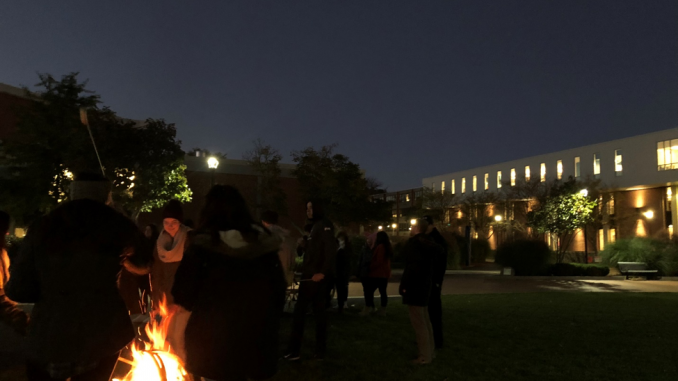 Maggie Mccann, Contributing Writer|
On Thursday, October 18, the Outdoor Adventure Club hosted a "Campfire in the Quad," inviting anyone and everyone to join them in the area outside the Chase Physical Education building to "make s'mores and enjoy relaxing around a portable fire pit." It was rescheduled due to rain on Wednesday October 17, the event's originally scheduled date, and was instead held from 6:00 pm to 8:00 pm Thursday night.
In front of the backdrop of a beautiful autumn sunset, students gathered to enjoy a cozy fire and have fun. Provided by the Outdoor Adventure Club, a table was set up full of chocolate, marshmallows, and graham crackers to make s'mores over the fire. Students interested in the event and those just passing by were welcomed to make s'mores or enjoy the warm fire as the weather began to get colder.
Along with s'mores, students interested in the Outdoor Adventure Club were able to talk to members about upcoming events, ways they can get involved, and anything else they were eager in knowing about the club. The club hosts many different activities on campus and around the Oneonta area. The club takes advantage of the numerous hiking trails all around Oneonta and the Catskill mountains. LEAD credit can be earned at most of the club's events.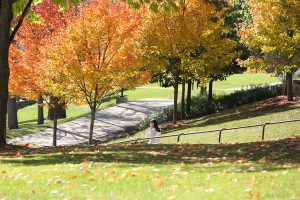 The Outdoor Adventure Club's next event is a Catskill Mountain Day Hike on Sunday, October 28. The hike is described as "a day hike to the summit of Hunter Mountain; second highest peak in the Catskill range." LEAD – Healthy Behavior credits can be earned by attending this hike as well. However, not all of the club's events are outdoors. Another upcoming event is Indoor Rock Climbing on November 11. A description on the Oneonta events website says, "learn the sport of rock climbing at the Clark Sports Center in Cooperstown, NY… join us to hone your skills in the comfort of this weather controlled environment." This is another excellent opportunity to meet people and get active with the Outdoor Adventure Club.