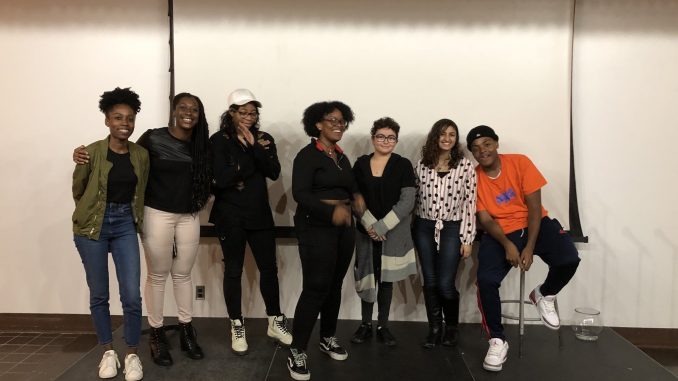 Katie Hebert, Staff Writer |
On Wednesday, September 26, the Big O Poetry Slam at SUNY Oneonta hosted slam number 161. This was the third slam of Season 18 of the Big O Poetry Slam, which is defined as "word ammo, teeth gnashing, soul busting, heart-locks, verbal drop-kicks, erect nouns & other grand gesticulations."
Robb Thibault, Hunt College Union Director and Poetry Slam Association advisor, hosted the event. He described the nature of the slam, which is where the first ten SUNY Oneonta students who sign up at the stage are able to compete. The top two winners of each slam qualify for the Grand Slam to determine the 2018-2019 SUNY Oneonta Poetry Slam Team. Thibault stood on chairs to raise the crowd's energy, followed by multiple speeches regarding trigger warnings, how slams are more energetic than poetry readings, and ending with "life is not easy, art is not easy, truth is not easy. But tonight, love and compassion will guide us along the way. Let's make poetry matter." He followed this sentiment later in the night by thanking the audience for being there and reminding everyone in attendance to be responsible for the space we create and to be accountable for the statements shared.
Opening the night was a group piece between Gabe Membreno and Chandler Aldrich, who are both executive board members of the Poetry Slam Association and have both represented SUNY Oneonta on the Poetry Slam Team for multiple years. Their piece started out with the line, "Oh my god, you do poetry?!" following multiple stereotypes and assumptions targeted towards poets. The piece continued to critique the idea of using art as an expression for trauma and healing that gets exploited by audience members, loved ones, and media. The piece ended with the two in unison: "I will tell you every way that I am alive today."
The feature of the night was Caroline Harvey, who is "a performance poet, punk folk theater artist, an educator, and a social justice advocate. She has been featured on HBO's Def Poetry and is a regular contributor to the Esalen Institute in Big Sur." She took a moment to recognize the indigenous people of the land before us, following into her pieces ranging from a variety of topics. One piece touched on the current political climate, saying, "What is there to have faith in?" She described the range of political issues as a "nation gone mad," following with "What breath can I trust when the air is poisoned?" She shared different snippets of advice to the audience, such as, "We are only as sick as our secrets—the more we tell the truth, the better." She continued with a poem about being silenced as a queer person, saying, "Queer isn't a word we have to whisper anymore." Harvey was impressed with Oneonta's slam scene, noting that slam is a special place, defining it as a "radical orphanage for weirdos where you can tell the truth and weird is the norm."
The sacrificial poet, whose job is to help the judges get adjusted to the process of scoring and to set a calibration for the judges, was Jillian Moczara, the President of the Poetry Slam Association. Their poem touched on a feeling of loss and confusion of self, repeating the line, "I am a ghost that doesn't know it is dead" multiple times throughout the piece. Their piece also shared, "I find the same face in every photo/ but how do I know that is me?"
The first competitor of the night was Phylesia Lewis. She shared a poem about not being confident in herself, which was shown through a description of her relationships with other people such as friends and partners. She shared, "I was waiting for other people to make me feel whole." Her poem had consistent rhyme and rhythm, ending the piece with, "I pick up my own pen, I have the power. I'm worth more because I say so."
Next up was Casey, who decided against using a mic. She began by talking about fairytales, mentioning a line "a woman lit a candle in the corner of my soul." It seemed to touch on a difficult relationship and being hurt by a partner. Casey continued with, "I was warned not to release too many demons in a three minute poem… wars aren't meant to be fought in silence."
Up next was Daline Lue, whose bio shared previous performances at the Apollo Theater in Harlem, NY. Her poem touched on many issues regarding race and systematic racism: "Already lucked out of what life has to offer because of their skin color." Lue's energy was powerful, and touched on a variety of issues that affect people of color.
Another poet of the night was Malack, a sophomore who had been on the 2018 Poetry Slam Team. She shared a poem about being Muslim in school, framed through the lens of a horror story metaphor: "[The monster was] me—a 6th grade girl assigned the wrong religion." Going through different stories of peers and teachers perpetuating Islamophobia, the poem continued with, "September 11 may have happened once, but for some of us every day is still September 12." Malack continued: "Not white enough to be safe, not safe enough to be American/ Too arab to be welcome, enough terrorist to be banned."
Out of the seven competing poets, Phylesia took second place with a score of 25 even, and Malack won first place with a score of 26.5. They will both be competing at the Grand Slam, with the four winners of the last and next two slams, and the four winners of the next two slams.
The next slam of the season, Big O Poetry Slam 162, is October 17 in the Hunt Union Waterfront at 8pm, with Hanif Abdurraqib as the feature. That slam will be the fourth chance to qualify for the Grand Slam, which is happening November 14. The Poetry Slam Association meets every Wednesday at 5:30pm in Hunt Union Square.