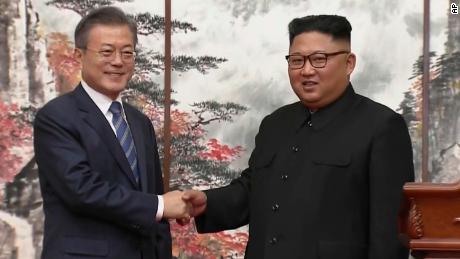 Casey McShea, Staff Writer| 
North Korea said it would close a key Tongchang-ri missile test facility in the presence of "international experts" and potentially destroy its primary nuclear complex in Yongbyon if the United States agrees to corresponding measures, as announced by South Korean President Moon Jae-in after he and North Korean leader Kim Jong-un met in for a three-day summit on Tuesday, September 18.
The announcement was made on the second day of the summit, on Wednesday, September 19. The summit is the third of this year, as part of efforts with the United States to contain the threat of war on the Korean Peninsula. Both leaders vowed to bring peace to the Korean Peninsula once and for all, something they both committed to at their April summit.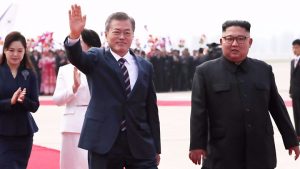 "The world is going to see how this divided nation is going to bring about a new future on its own," Jong-un said after a brief signing ceremony, receiving applause in response. The agreement the leaders signed stated that the next summit meeting would take place in Seoul, South Korea's capital, which would mean Jong-un traveling to South Korea, something no other North Korean leader has done.
According to analysts, "the ball is now in Washington's court." President Donald Trump and Chairman Jung-un have not spoken since their Singapore meeting more than three months ago, but Jung-un's offer to destroy the two nuclear missile sites may change that.
Michael Fuchs, a senior fellow at the Center for American Progress and former Deputy Assistant Secretary of State for East Asian and Pacific affairs, elaborated, "If North Korea is genuinely willing to close down Yongbyon and allow in inspectors… those are just partial steps, but those are genuine steps forward."
The announcement to close a missile facility was not the only one to come out of the meeting. The two Korean leaders also agreed to pursue a joint bid to host the 2032 Summer Olympics. Few details were released about the proposal; issues such as which countries would host which events and how the closed society of North Korea might handle an influx of international athletes, fans, and news media were left undetermined.
While the International Olympic Committee is years away from picking a host for the 2032 games, the mere idea that Koreans might bid together suggested that the Olympics remain a powerful incentive to keep the countries—which have been at war for more than six decades—talking about peace.
Other pledges that came out of the summit were: a creation of railroad and highway links between North and South Korea, normalizing the Kaesong Industrial complex and Kumgang tourism project as soon as the conditions allow, stopping military drills aimed at each other along the Military Demarcation Line (which divides the two countries) by November 1, and removing 11 guard posts in the demilitarized zone by the end of the year.