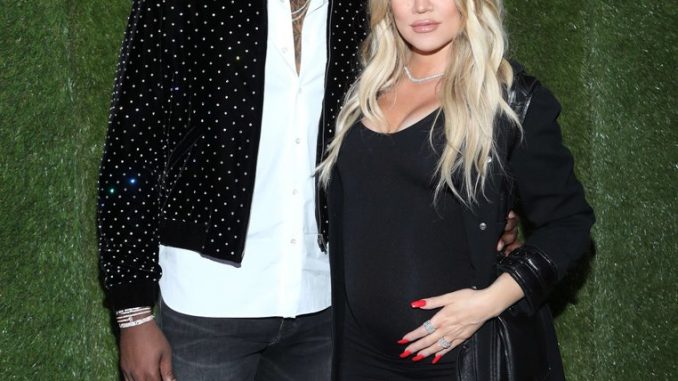 Chrystal Savage, Staff Writer | 
The Kardashian-Jenner family welcomed yet another addition. Khloe Kardashian, 33, gave birth to her first child, True Thompson, on Thursday, April 12. The father, Tristan Thompson, already has one child, Prince Oliver Thompson, 1. Prince was born to Instagram model Jordan Craig in December 2016, four months after Kardashian and Thompson had publicly confirmed their relationship.
Until recently, Kardashian and Thompson's relationship seemed to be mostly smooth sailing. In the beginning, baby mama drama was not a problem for Thompson in the same way that it had been for rapper Tyga and his ex Blac Chyna during Tyga's relationship with Khloe's sister, Kylie Jenner. Chyna is mother to not only King Cairo Stevenson, 5, but also Rob Kardashian Jr.'s daughter, Dream, 1. Jenner recently welcomed her first child, Stormi Webster, with Travis Scott in February. Craig has also been linked to Tyga, prior to her relationship with Thompson. Eight days after Craig's delivery, Kardashian announced that she was expecting her first child with Thompson. Still, there was no public animosity between Khloe and Craig.
Conversely, there were some bad feelings between one of Thompson's other ex's, Amber Rose, and Khloe Kardashian. Ironically, Rose also dated Kanye West and is a close friend of Blac Chyna. West is now married to Kim Kardashian, Khloe's sister. Kim and Kanye just welcomed their third child, Chicago, in January, who was delivered via anonymous surrogate. Rose and Khloe's feud escalated when comments were made by Rose on a radio broadcast about Kylie Jenner's immaturity. Big sister Khloe came to the defense of her 13-years-younger half sister. Kardashian tweeted, "Please stop talking about us in interviews mama. None of us talk about you… I don't know Amber so why would I comment on her. I'm not going to comment on someone I don't know… We all hear things via social media or blogs but… [there are] 3 sides to EVERY story. His, hers and the truth. I'm not passing judgment but I wish others would do the same until they have FACTS."
Rose responded simply by hashtagging, "#DontPanic." Conveniently, "Don't Panic," a new release at the time by hip-hop artist French Montana, starred his periodically intermittent girlfriend—Khloe Kardashian.
In light of Tristan's recently publicized infidelity, Rose, critics, and fans came to rally behind the then nine-months-pregnant Khloe. Rose extended sympathy when writing on her instagram story, saying, "I know we've had our differences in the past but my heart is broken for you sis smh no one deserves to feel that pain especially during such a sensitive time. God bless you and your baby." This comment comes after Daily Mail claimed to have video footage of the Cavs player "locking lips with a mystery woman." Since these claims, videos and photos have surfaced confirming allegations.
Craig also extended her condolences saying, "If you respect yourself and you respect others, you would never make light of the misfortune of anyone, nor would you feel indemnified when it comes at the expense of others. Wishing peace for everyone."
Following the news of infidelity, five women have since claimed relationships with Thompson. Among these women is Tania Joyce Benitah. According to Daily Mail, "Tristan was first spotted with [Benitah] back in November, and last seen with her less than a month ago in New York."
Those closest to Thompson aren't surprised the serial cheater engaged in inappropriate affairs while his expecting girlfriend remained at their home in Cleveland, OH. Lani Blair, yet another Instagram model, was seen on multiple occasions over a two-day period with Thompson at his hotel and in clubs. Surveillance video showed Tristan making out with one woman, before turning to a second, seated side by side, burying his face in her breasts while she fondled his crotch, and then snuggling up to yet another woman.
Despite the indisputable confirmation served in these images, Tristan reportedly claimed that he was "set up." However, he has since apologized for his actions and has been forgiven by Khloe, who allowed Thompson to be in the delivery room. Khloe's mom, Kris Jenner; her two full sisters, Kim and Kourtney Kardashian; and her closest friend, Malika Haqq, were also in the room. In confirming the arrival of her niece, Kim expressed via Twitter that she was proud of her sister and was happy for the close proximity of their children's births, so that "[their] baby girls to grow up as best friends the way [they] are."
While the family was undoubtedly fully supportive of the new baby and their beloved friend/sister/daughter, they worked hard to bury feelings of distress over the scandal. While it was first reported that Khloe planned to leave Cleveland as soon as possible, sources are now saying that the new mom wants to try and make the relationship work. Regardless, the child has a family network of extensive support and will undoubtedly be given the world.