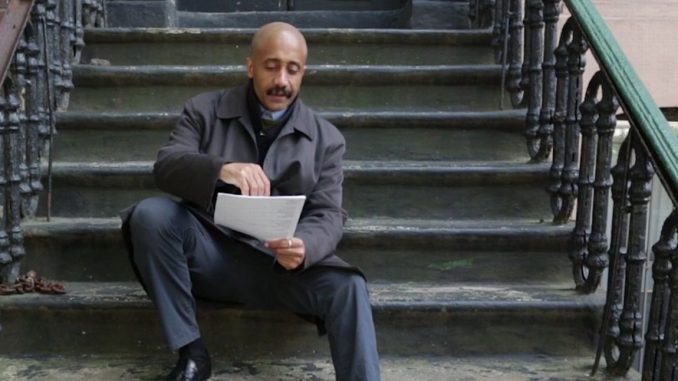 Chrystal Savage, Staff Writer |
In conjunction with the Department of Africana and Latino Studies memorialization of Black History Month, the Red Dragon Reading Series welcomed poet David Mills to campus. Mills recited performance based readings from his upcoming poetic collection, "Talking to the Bones." This composition is the first to take issue with America's most voluminous and primeval African American burial ground and slave cemetery, which is located in New York.
The event was hosted in the Center for Multicultural Experiences, and was set to commence at 7:30 p.m. on February 22. Due to transportation issues, the event was forced to begin later than initially anticipated.  Dr. George Hovis, Professor of American Literature and Creative Writing and current Chair of the Red Dragon Reading Series, gave a brief introduction to this semester's sponsored events and future authors.
Dr. Hovis began his introduction with a quote from Walt Whitman's "Song of Myself" saying, "I contain multitudes" and concluded his portion by asking the audience to help him welcome the evening's speaker. Mills then came up and immediately set a comedic mood despite the topical weight of the event; he joked about never having received such an introduction.
He set the scene for his reading by first painting a picture of New York City in the early part of the 19th century, describing its size as the equivalent to present day Chamber and Bowling Streets. Mills read a number of poems, providing commentary before, after and throughout each work.
Among the recited compositions were "The Apprentice," a piece particularly vivid in imagery; "Mother By Mother," which acknowledged the familial pain experienced by slave families; and "Almost Audience," which highlighted the irony of slave abduction. Mills also drew on powerful word play and historical context. Mills captivated the audience through his use of various literary elements and tactical performance.
By the end of the evening, Mills showed a vulnerability that was arguably lacking from the reading and contextual commentary. When asked by Dr. Hovis about the difficulty in capturing the essence of such horrors and turning it into poetically beautiful art, there was an almost deafening silence that washed over the room as Mills turned away from the mic and the audience. His answer, "We are all ugly. We are all beautiful. All of us. It's a combination of both."
Mills bared all when he detailed the pieces that caused him to just break down by the end of a seven to eight month composition process that consumed him, and upon sharing such pieces with his ex-partner, they discussed how there is no way to read such a composition and not be moved by his attempts to dignify the dead with essentially a burial, laying their story to rest despite the disposal of their physical beings.
When asked if art was an effective way to change historical narrative, Mills responded, "History was written by the conquerors, but the oppressed still get some version of their story."
It's not about romanticizing art. It's about a hope that people down the road feel some inspiration from his works and attempt to resurrect something that has been pushed aside just as he has done.
Mills also said he was less concerned with the performance he provided and rather with what it evokes for readers on the page, detailing how he hates the term "spoken word" because it emphasizes an importance on acting instead of being humbly moved by the weight of the words. He went on to say that the pieces he selected for the evening were based strictly on time constraints and while he had 40 minutes to "perform" his pieces, each piece in reality took that time in hours, saying that writing is re-writing
Mills also spoke on behalf of the similar atrocities that have occured in various other regions of the world including Belgium and Brazil. He provided a critique on the various ticks and tendencies of his writing style by comparing it to the angularity in piano playing. With this, he then quoted jazz trumpeteer Miles Davis, and how he had stopped playing the ballads because he loved them so much. Mills concluded by reflecting on the evolution of poetry.
Students who attended were given the opportunity to receive LEAD credit, and urged to participate in discussion following the reading.
Mills was the first of four authors in the reading series. Melora Wolff will be reading on March 29 in Craven Lounge at 7:30 p.m., Christine Kitano on April 17 in Craven Lounge at 7:30 p.m., and Sandra Steingraber on April 18 in the Hunt Union Ballroom at 7:30 p.m.
The Red Dragon Reading Series is made possible by the generous support of the SUNY Oneonta Office of the President, the Department of English, the Public Events committee, the Office of Sustainability, Department of Africana and Latino Studies, the Office of Equity and Inclusion, and Damascene Book Cellar.
For more information on the series please visit: http://www.oneonta.edu/academics/english/reddragonreading/reddragonreadingseries.asp.
For those interested in attending some other Black History Month events put on by the Africana and Latino Studies Department: on February 26 is "Hoodie Remembrance Day," an all day event on the SUNY Oneonta Campus and on Febrary 28, "I Am Not A Racist: Panel Discussion," beginning at 7:00 p.m. in Human Ecology 204.