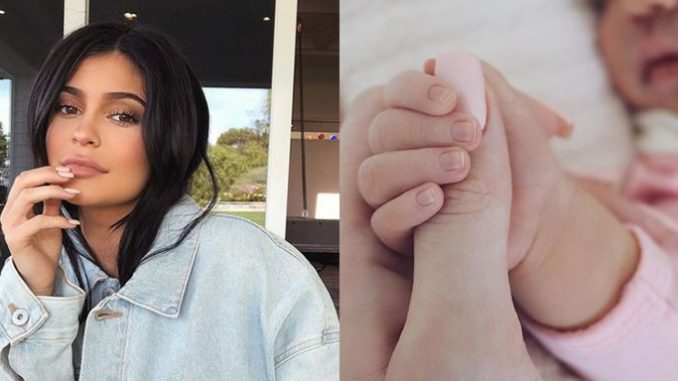 Chrystal Savage, Staff Writer | 
The Kardashian-Jenner family has welcomed another addition to their family. Kylie Jenner, American television personality and entrepreneur, 20, announced the birth of her first daughter, Stormi Webster, on February 4, 2018. Jenner was later criticized for taking attention away from the 52nd annual Super Bowl.
Stormi was born on February 1 at 4:43 p.m. PST and was greeted by a suite full of her famous family, including her father, American rapper, Jacques Webster, 25, known by his stage name, Travis Scott. Stormi is Scott's first child as well.
Kylie Jenner and all those close to her managed to hide her pregnancy from the public for nine months.
Upon the announcement of her pregnancy, Jenner apologized to the public for keeping the experience so private, saying in part, "I'm sorry for keeping you in the dark through all the assumptions. I understand you're used to me bringing you along on all my journeys. My pregnancy was one I chose not to do in front of the world. I knew for myself I needed to prepare for this role of a lifetime in the most positive, stress free, and healthy way I knew how."
Jenner went on to briefly detail the journey before the release of a short film, "To Our Daughter."
The film begins with a home video taken in August of 1997 of baby Kylie being welcomed into the world. It then moves into present day, showing friends and family describing Jenner and Scott's relationship and how they found out that the couple was expecting. Jenners's fans finally witness the somber, serious, comedic, and beautiful moments of her pregnancy. The video winds down before the labor and birth with Kris Jenner, grandmother and American television personality, 62, imparting some wisdom and hopes for her newest grandchild.
Prior to the announcement of her daughter's name on February 6 via Instagram, there was much speculation as to whether a butterfly theme was coincidental, or if the pair was truly contemplating options such as Monarch or Mariposa. Those following the timeline of Jenner's rumored pregnancy noted multiple allusions to butterflies in Jenner's social media posts, as well as the release of her "Posie K" lip kit, Kylie's jewelry in the "To Our Daughter" video, and Scott's song, "Butterfly Effect."
After revealing her daughter's name, Jenner's Instagram post became the most liked post ever. This beat out previous most liked Instagram post, Beyoncé Knowles' announcement welcoming twins Rumi and Sir Carter. Kylie's post exceeded Knowles' in likes by nearly six million.
Though the meaning behind the name has not yet been revealed, it's speculated that "Stormi" is derived from the idea that the flapping of a butterfly's wings can create a storm (the butterfly effect). The name is undoubtedly beautiful and unique, however, Stormy Daniels, American adult film star, warns Jenner that, "little girls named Stormi are known to cause trouble."
The new parents and their families will now come together to help raise and inspire Stormi as they await the arrival of Khloe Kardashian's, American television personality, 33, first child with Tristan Thompson, Canadian NBA Cleveland Cavaliers Forward, 26. The child is expected in late April. As far as Scott and Jenner's relationship is concerned, they are reportedly in no rush to settle down and get married.