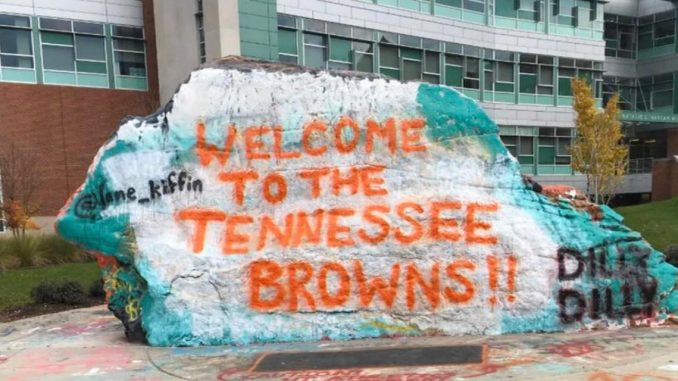 Wyatt Cushman, Staff Writer |
Being a coach at a high level of any sport is a demanding task. You're asked to take control over a group of men or women and shape them into a well-oiled machine in hopes of winning a championship. You must be tough on them to get the most out of every player so that your team can reach its full potential, but while being tough on your players is part of it, you also have to have a soft side. This side is so that you can form a relationship with your players and so that they will respect you and not quit on you in the middle of the season. Being a head coach is an extremely hard thing to do, and being a college football head coach may be one of the hardest.
College football is a tradition on Saturdays in the fall. Every college wants their team to win so that they can have bragging rights over another fanbase for the entire year. Football is a big deal all throughout America, but it's a bigger deal down south. The South Eastern Conference, more commonly known as the SEC, is home to some of the top teams in the country. Schools like Alabama, Auburn, and Georgia are royalty when it comes to talking football in the South and right now everyone else is trying to catch up to them. One school that has been in the news lately is the University of Tennessee. The school hasn't been in the news because of success on the field, but rather due to some questionable decisions made by the people responsible for hiring the next head football coach at the school.
A few weeks ago, it was reported that Greg Schiano, the current defensive coordinator of the Ohio State Buckeyes, was set to become the next Head Coach of Tennessee. Tennessee recently fired Head Coach Butch Jones, who compiled a 34-27 record in five seasons at Tennessee but had his worst season of all in 2017. The Volunteers went just 4-8 this season and didn't win a single conference game. In a highly competitive conference like the SEC, where winning is mandatory, a 4-8 record was not satisfactory, leading to Jones' firing.
Schiano looked to have secured the vacant coaching position, however fans of Tennessee were outraged with the hire, citing Schiano had a role in covering up the actions of Jerry Sandusky, who was accused of sexual assault in 2011, while both were a part of the coaching staff at Penn State. It was never confirmed if Schiano had any role in covering anything up, but rumors that he may have been were enough for fans to ask the school to reject their job offer to Schiano, and that's exactly what they did. Less than 24 hours after being offered the position and signing a "mutual agreement" that Schiano would be named the next head coach, he was informed he was no longer in consideration for the head coaching position.
To recap all the chaos that happened over the course of a single day, Schiano was offered the position, signed an agreement saying he would become the next coach, and then was told he no longer was being offered the position. Tennessee officials came out the next day and said that there was never an agreement signed by either party. If that is the case then it makes Tennessee look much better, but it seems as if nobody knows the full story. Either way, you must feel for Schiano, who thought he had another great coaching opportunity locked up, only to see it slip away hours later.
Some will say Schiano was robbed while others will say that Tennessee was smart to not hire a man their fans were very unhappy with. Moving forward, both parties will go their separate ways hoping to move on from this confusing situation. Schiano will continue his duties as the Ohio State Defensive Coordinator, and is currently preparing his team for a showdown with USC in the Cotton Bowl later this month. Tennessee will move forward in its coaching search, which now seems wide open as nobody really knows who will become the next head coach of the Volunteers. All we know is that it won't be Schiano, and that whoever it is will have his work cut out for him, as this program has a long way to go before they get back to the top.