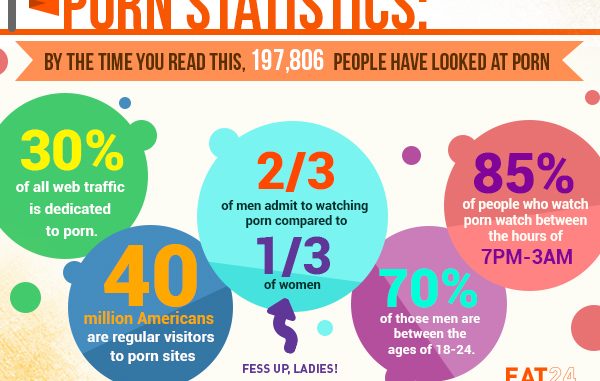 Paige Welch, Managing Editor |
"Porn" itself is a dirty word. It holds the power to frame human sexuality in morally complex ways. Everyone knows it exists, but not a lot of people want to search for it outside of an incognito window. The shame of sexual curiosity is deeply rooted in a hushed history of human sexuality, a study that is incredibly gendered and heteronormative.
Part of the secretive consumption of porn is due to the concept that sex is a private, intimate thing that should be shared between a couple in love, specifically between a man and a woman. Any other sexual relationship outside of this normative model, also called "queer" sex, is not to be publically acknowledged.
The porn industry has grown to the point at which one can search for any sexual act or kink and find it represented. I find that this in itself is, mostly, not problematic.
Sexual curiosity is a perfectly healthy thing that should not be repressed. Exploring things that provide sexual pleasure is a foundational aspect of a person's future sex life as it gives them an idea of what they may or may not enjoy in the bedroom.
But the problem with porn is its masculine connotations. Porn is largely related to male sexuality. On mainstream television, Americans' relationship to porn is demonstrated through a male on a sitcom getting yelled at by his wife for the magazine hiding in the bedside table. On an episode of "Friends," viewers see Chandler and Joey refusing to turn off their TV because they don't want to get rid of the free pay-per-view porn. Their apartment is a masculine space, so they can keep porn on all day without having to worry about social backlash. In another episode, Phoebe, Rachel, and Monica are looking at a Playboy, wondering what the stories of the models are. These two scenes show a contrasting image of the gendered representation and perception of porn.
Rarely is a woman shown enjoying pornography. Society may not be ready to be completely open about the sexual desires women have, and even more so, the porn industry may not be ready to cater to their pleasure.
Sex work – such as prostitution, exotic dancing, and pornography – is still a notorious industry and is hotly contested by most of mainstream society. Even within many feminist circles, sex work is considered to be an inherently sexist perpetration of a male dominated social structure.
According to Ms. Magazine, the "Anti-Porn" argument is made around the assumption that "the pornography industry is a complex machine that turns sex into a commodity that is more about power and profit than pleasure."
And based on a heteronormative frame, "…porn also contributes to already dangerous ideas about the role of women during heterosexual sex. While BDSM and other forms of kink can be practiced safely and consensually in private, displaying these forms of sex as the norm online can be harmful."
Though I agree with both of these points, I think the issue is not with porn itself. Instead, it is more about the capitalization of porn, making it so that it is easily controlled by a sexist group that will create sexist portrayals. Porn stars should not fall victim to the hatred of other women nor have their way of making a living be targeted as a misogynistic act.
On the other side of the coin, Ms. Magazine argues, "why should we completely censor the fantasies that allow people to explore their desires and interests from a safe distance? Why not allow porn to be an opportunity for minority directors and actors to create media that does not stereotype or degrade them?"
This is the general viewpoint that I resonate the most with, for porn does allow women, minority groups, and members of the LGBTQIA* community to explore their sexual fantasies within a safe space.
What is the connection between the suppression of feminine sexuality and the taboo of porn? According to a recent survey conducted by the sex toy and lingerie retailer Ann Summers, many more women enjoy porn and see it as a way to de-stress than originally assumed. Yet, for some reason, the industry does not cater to female pleasure. The most popular pornographic streaming sites, such as Porn Hub, visibly illustrate an appeal to the "male gaze," or a point of view that presents women as objects for male sexual desire and pleasure.
One category is "for women," oftentimes depicting more sensual and romantic scenarios. This implies that the rest are "for men" and that men prefer aggressive, dominant sexual acts. This trend feeds into an unhealthy, stereotypical view of the sexes. Men are oftentimes encouraged to indulge in their desires while women are left to revolve their pleasure around a man.
Not only is this a very vivid representation of a dominant and subordinate relationship between men and women, it also alienates same-sex relationships. "Lesbian porn," as it is called, is often oriented around the idea that women are only in same-sex relationships to, again, appeal to the "male gaze." This is what makes many identifying feminists uncomfortable. Many believe that pornography itself causes a growth of the power behind male-oriented pleasure.
I would like to argue that the consumption of porn should not be a shameful thing. This is not to say that I expect it to become a public and social activity, but an individual should not be ashamed to explore their sexual desires and fantasies.
The problem with porn is not the explicit depiction of sexual acts, but widely distributed, unrealistic sexual content that people may receive as accurate and standard. If the porn industry catered to and acknowledged the desires of the diverse human population without fetishizing race, identity, and bodies, then there is a chance that the blooming generation could have a healthier view of their own sexuality.