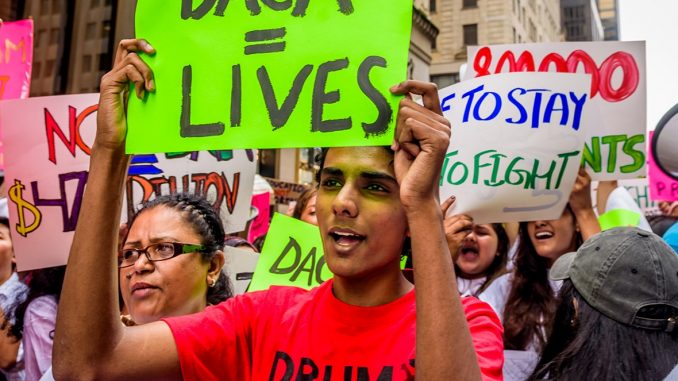 Tara Muldoon, Contributing Writer |
On the morning of September 5, 2017, the acronym "DACA" was trending all over social media and appearing in dialogues across the nation. President Trump announced in a tweet that the Deferred Action for Childhood Arrivals program (DACA) would be rescinded, but it was announced later in the day that Congress has six months to take action and figure out what would happen to those who were protected by the program.
DACA is an executive order implemented under the Obama Administration that protects undocumented immigrants from specific countries who came to the United States as children from deportation. Recipients of the program must reapply every two years and will be accepted as long as they are enrolled or have gone to high school or have a GED, as well as no record of any crimes or felonies. According to CNBC, "A study earlier this year by the Center for American Progress estimated that the loss of all DACA workers would reduce U.S. gross domestic product by $433 billion over the next 10 years."
The Obama Administration had allegedly tried to get congress to pass a form of the DREAM Act, but the bill was refused and has yet to pass since its introduction back in 2001.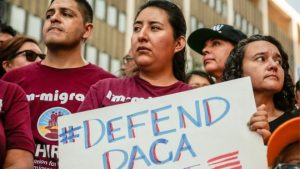 Former President Barack Obama condemned the current administration and their actions in a post on Facebook saying, "To target these young people is wrong – because they have done nothing wrong." He explained, "This is about young people who grew up in America­—kids who study in our schools, young adults who are starting careers, patriots who pledge allegiance to our flag. These Dreamers are Americans in their hearts, in their minds, in every single way but one: on paper. They were brought to this country by their parents, sometimes even as infants. They may not know a country besides ours. They may not even know a language besides English. They often have no idea they're undocumented until they apply for a job, college, or a driver's license."
In light of this announcement, some current and former students of SUNY Oneonta who are immigrants were asked their opinions on the matter. While these students are not enrolled in the program, after some discussion at length about their backgrounds as immigrants and an explanation into what the program actually was, they openly disclosed their opinions.
A current student of SUNY Oneonta who wished to be referred to as A.E., was born in a country that makes him a permanent resident of the United States. When asked if he personally felt for his fellow immigrants, the situation made him reflect on how lucky he was: "I feel like depending on what your nationality is, you're going to have a very hard time becoming a citizen in this country. You have to spend a lot of money in order to even become a resident, never mind a citizen. Since I was born where I was born, you just kind of show up and you get handed that, so I don't know where I would be if I didn't have my residency."
According to CNBC, roughly 800,000 young Americans who were protected under the program are being threatened by deportation, which is why Democrats are pushing for congress to pass the Development, Relief, and Education for Alien Minors Act (DREAM Act). The act has requirements similar to that of the DACA program, and Congress' passing of this act would make those requirements law.
When former SUNY Oneonta student, Natalia, was asked her perspective announcement to rescind the program as an immigrant, she declared, "It's just not right", referring to all of those people who would have to be sent back to countries they never grew up in.
Over the next six months, congress will be forced to make an official decision on DACA and the DREAM Act. Both parties believe the program or something similar to it should be put in place. However, if a policy as lenient as DACA is decided on, Trump will be facing some heat from his own base, as Immigration Reform was at the top of his list of campaign promises last year. If he falls through on his promise, the loyalty of his supporters may be questioned.