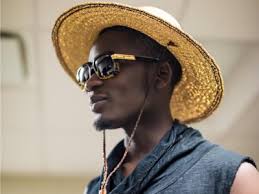 Barbara Prempeh, Staff Writer |
Born Oluwatosin Oluwole Ajibade, Mr. Eazi is a Nigerian singer, songwriter, and entrepreneur. With his R&B infused afro-beat style, Mr. Eazi has launched his musical career with a unique fusion of sounds from Ghana and Nigeria. Born to Nigerian parents in Port Harcourt, Nigeria, Eazi grew up in Lagos before moving to Kumasi, Ghana to live with extended family and attend Kwame Nkrumah University of Science and Technology, where he studied medical engineering. Since his move in 2007, Ghana has influenced his life in many ways. During his time in KNUST, Mr. Eazi hosted raves, parties, and award shows. In the end of all his messages, Mr. Eazi would always say "Be Eazy." The name stuck.
After college and having gained experience in party promoting, Mr. Eazi decided his future was in music. From there on Mr. Eazi got the chance to work on his first single in 2012 called "Pipi Dance" with the help of producers PeeWee and KluMonsta. He then released his first mixtape, About to Blow, in July 2013. The mixtape included one of his top singles called "Bankulize." The song was featured by Pappy Kojo and Burna Boy on its remixed version.
Fast forward to today: Mr. Eazi has gained fans in the U.K., America, Ghana and Nigeria. Reviving his new voice and sound in 2015 with the release of his dancehall track "Skin Tight," Eazi infused both Ghanaian and Nigerian sounds into the new song. With over 9.5 million views on YouTube, the Banku music pioneer has gained popularity amongst other artists such as Eugy, Sarkodie, and Efya.
Despite not being nominated for the Ghana Music Awards in 2016 (he was disqualified for not being a Ghana-born citizen), Eazi continues to bring a new sound to Africa and beyond. His music brings a wide range of styles from highlife, R&B, Hip-Hop and West African pop. According to his website, Mr Eazi describes his sound as "Banku Music," which includes laid back afro-soul instrumentals infused with a Ghanaian and Nigerian cultural upbringing.
"It's your boy Eazi, Zagadat," is Eazi's signature line in the beginning of every song. As Eazi has topped the charts, he has opened doors to all Africans across the board by using music to tell a story.
Along with his collaboration and recent album "Life is Easy Volume 1: Accra to Lagos," Eazi is the newest upcoming artist on Apple 'Up Next' Artist Series. The platform highlights new artists in a series of episodes and promotes the artist's playlists on the iTunes store. In the series, Mr Eazi states his ultimate goal is to put the music of Africa on the charts in hopes that it will gain the respect other genres of receive.
Mr. Eazi is definitely an artist who deserves accreditation for his contribution to the rise of Afro Beat music that connects with the soul and heart. With his unique music and style, Mr. Eazi is paving the way for African music to enter the worldwide stage.