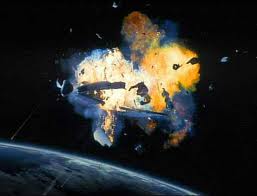 Brenna Crowe, Contributing Writer |
In 1986, the Challenger obliterated over the Atlantic only seventy-three seconds into its mission. NASA lost credibility, and families lost loved ones, partly at the fault of one writer's passive memo.
Flinging ourselves into space, as terrestrials, demands an immense group effort. Sadly, prior concerns ruminating between engineers on the project were ignored. The O-Rings on the rocket boosters were built of material that could not withstand drastic temperature changes. Despite these suspicions, the Challenger launched as scheduled.
NASA scientist Roger Boisjoly sent out a confusing memo before the launch. He was reluctant to directly state that "continuing with the launch may result in the loss of human life." His reluctance may have been due to an absence of supporting data. He probably thought that he needed clear evidence to justify terrifying everyone. Theoretical physicist Richard Feynman suspected other contributing factors, such as the fact that groupthink dominated NASA at the time, and Boisjoly would have been straying from the group consensus by purposing this concern. Regardless, perhaps NASA would have listened to Boisjoly if his memo was bold enough to emphasize the risk of death in the mission.   
This perspective on the Challenger disaster embodies the importance of quality writing. Learning how to write with clarity, purpose, and directness helps readers accurately receive the intended message. This intellectual and empathetic skill may prevent some actual and metaphorical spaceships from exploding. So how can we develop effective writing skills? Fortunately, the SUNY Oneonta English Department offers two writing minors: professional writing and creative writing.
To meet the required 18 credits for each minor, students need to take Creative Writing among other courses, and then they have to choose classes from various options, such as a Non-Fiction Writing Workshop, a Screen Writing course, or an internship.
SUNY Oneonta's Dr. Suzanne Black — a Chemistry major metamorphosed into a writer — comments on the value of minoring in professional writing: "Students who can write well have an advantage in the workplace and often get promoted because of their communication skills."
Writing is a form of communication; it is an attempt to share and to inform, which is an essential skill for most if not all careers. Good writing gets people to pay attention. Writing entails more than just our ideas, but also the way in which we present and structure those ideas. For example, if someone wants to get others to engage with what they have to say, they need to take into consideration what document designs attract or repel readers.
Along with document design, we also need to make sure that what we are saying makes sense to others. This involves drafting and receiving input from peers. These collaborative exchanges are what attracted Dr. Black to technical, persuasive, and scientific writing. Much of her work has involved harmonizing the voices of many different writers. As a grant writer, Dr. Black has had to persuade taxpayers as to why they should fund scientific explorations. To get non-experts to understand the gravity of a potential research project, she encapsulated complex ideas into comprehensible sentences. So many perspectives (i.e. scientists, other writers, and intended audiences) need to be simultaneously considered to make these arguments effective.
Collaboration is essential to the process of writing fiction as well. In Fiction Workshop, SUNY Oneonta's Dr. George Hovis — another chemistry major who pivoted to a career in writing — emphasizes that the core of any good story is human conflict between characters.
While storytelling, Dr. Hovis said, "You can feel the synaptic pathways forming and branching, indicated by a sudden clarity and energy of thought that only a day before had not existed."
Fiction writing allows us a playground for empathizing with the many different perspectives of people, characters, and readers.
Whether technical or fictional, writing is powerful. Good, clear writing will attract listeners because it takes into account the needs, preferences, and capabilities of said listeners. To hone your writing skills, consider working in a professional or creative writing minor into your undergraduate education, which can easily be worked into the mandated liberal arts credits that do not go towards your major.
For more information, look up SUNY Oneonta's major and minor page, which can be accessed from the main page of the school's website. You may save us from some unexpected spaceship explosion! Regardless, this skill will prove to be advantageous in paving your own career path.