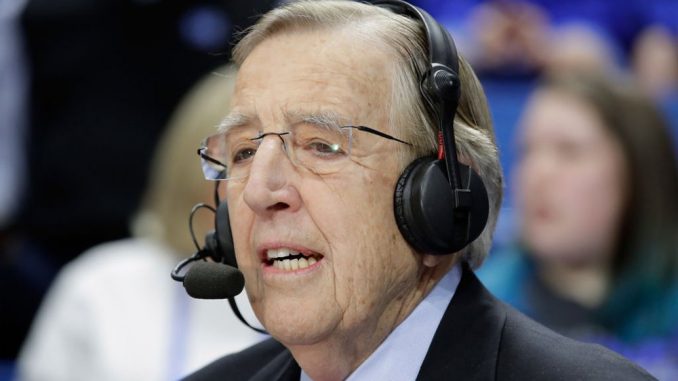 Wyatt Cushman, Contributing Writer | 
There's no doubt that every sports fan would go to every one of their favorite team's games if given the opportunity. The atmosphere, the possibility of getting an autograph, or just seeing your favorite player are some of the perks associated with going to the arena for a game. However, most sports games we tune in too are seen or heard on our televisions or radios. For these games, the broadcasters relay the excitement of the games to the fans. For nearly 50 years, Brent Musburger has been heard on televisions across the nation for some of the biggest games. "You are looking live," Musburger's signature line, is what he will be remembered by.  He began his retirement Tuesday night, after the SEC basketball game between Georgia and Kentucky.
Musburger attended Northwestern University's Medill School of Journalism and then began his broadcasting career in 1968 with local television in Chicago, which took off in 1975 when he became a play-by-play announcer for CBS sports. While there, he worked numerous events including the NCAA final four, the NBA, The Masters, and tennis' US Open. Musburger moved to ESPN and ABC in 1990 and continued his storied career. For the next 26 years he would go on to be the play-by-play announcer for events such as golf, NASCAR, college basketball, and college football games, including seven BCS National Championship games. In 2011, Musburger was named to the National Sportscasters and Sportswriters association Hall of Fame.
On Tuesday, as the final whistle blew, symbolically ending his great career, Musburger gave one final goodbye to all the viewers as he had done so many times before: "What a road we've traveled together. Thanks so much to you for sharing your time with me. What great times we've had over the last almost 50 years. But now, it's time for me to turn over the play-by-play duties to those fine young announcers who are growing up at ESPN."
He was a wonderful voice to listen to and brought the millions of viewers so many special moments, more than they will ever realize. As he sets his sights on retirement, he and the rest of us will have to wait and see if anyone will be able to fill the big shoes he left behind. Thank you Brent Musburger for all you've done.