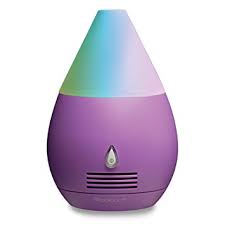 Marisa Macri, Contributing Writer |
In an effort to help curb my anxiety and stress levels, I recently set out on a quest to buy an at home aroma therapy fragrance diffuser. I had heard that these products do wonders, and that the different essential oils they use work in a number of ways, whether it be to calm, relax, rejuvenate, energize, or even to aid in decongestion when sick. I was eager to try out this new wellness trend and hopefully hop on the aromatherapy bandwagon.
After doing some research and asking around, I followed my friend Breanna's advice and went to Bed Bath and Beyond, where they have a variety of different diffusers and essential oils to choose from. Money was definitely a factor in my decision of which diffuser to purchase, so I opted with the SpaRoom Scentifier Fragrance Aroma Therapy Diffuser, which rang up at $19.99. This specific diffuser is on the smaller side; larger ones are sold for up to $79.99. I wasn't looking to spend so much money, and although the SpaRoom Scentifier may be a little less advanced, I could not be happier with my purchase.
This diffuser is small yet sufficient; its the perfect size to set on a desk or night table, so convenient! While users do have the option to insert batteries for usage, it also comes with a portable USB cable that can plug into a laptop or wall outlet, making it super easy to use anywhere without batteries. The diffuser runs on a silent fan, so it's not loud or distracting in the slightest. It also lights up with changing color, further enhancing its relaxing aura. Beginning your usage could not be more simple; just pull out a small tray located in the back of the diffuser, insert an absorbing pad (the diffuser comes with one, but packs of them are sold separately, and you'll need to switch to a new pad as you switch your oils), drop some essential oil of your choice onto the pad, and press power!
After just one use of this product, I absolutely loved it, and I love the essential oils that I chose to use with it. I started off buying two oils; Chai Tea, which is used to soothe, and Rose, which is used for relaxation. Not only do the oils smell great, but they really do instantly relax you. There are so many other oils to choose from, depending on what effects you want them to have on you. For example, choose a peppermint oil if you want to feel energized and awake. I'm excited to keep testing out different oils and watch them work their magic.
It is safe to say that I've definitely joined the aroma therapy bandwagon, and I have really found that it works for me. After I plug in my diffuser I feel more calm and less anxious than I did before. I'd give this product five stars and I highly recommend it. For anyone who is interested in aromatherapy, give it a try because I don't think you'll regret it.