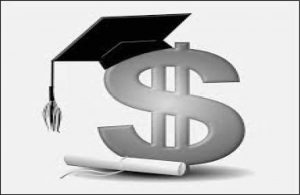 Aaron Kriever, Staff Writer
Proper budgeting and saving techniques are not always a priority for college students. After graduating, many former students struggle with making the most of their monthly income. "Making Cent$: Life After College" helped hundreds of students learn the basics of budgeting and avoiding overspending once real life starts.
As a senior, the real world and real expenses are just around the corner for me. The thought of constant budgeting and having dozens of separate expenses every month terrifies me, but I know that I have to start preparing as soon as possible. Students who participate in Making Cent$ are given a "monthly income" based on their major and what field they plan to enter after graduating. Based on my Music Industry major, I was given an income of roughly $3,200 a month. I was given paper money in the forms of numerous $100, $50, $20, and $10 bills, and had to move around Hunt Union's Ballroom to a series of tables where all of my monthly expenses would be covered.
Throughout the event, I learned about many different types of expenses that I would end up having to pay for every month, as well as proper budgeting and selecting the right options within these expenses. Quality of food and groceries was one expense that was covered. Various car payments were another heavily discussed expense; preparing for all different types of scenarios, such as having an oil change, blown tires, and sudden gas-heavy trips were just a few of the many situations I would inevitably deal with.
Some of the other topics that were covered were taxes, rent and housing payments, leisurely spending, and work clothing. Rent, taxes, and student loans were the most consistently large expenses that I had, and I assumed that would be the case for many other graduates. Preparing for many of these expenses didn't occur to me before I started participating in Making Cent$. For instance, the concept of spending hundreds of dollars in order to create a full week's worth of work attire was an example of an expense I had mentally bypassed when thinking of the future.
As the event progressed, I ended up thinking of more and more ways I could cut corners to save money. Being energy efficient was one option presented to me by the event's workers. Another way to save money was to cut out a lot of needless spending on junk food and alcohol, as well as to keep eating out at a minimum if I could help it. I learned the significance of saving a little bit of money every week to put into both a retirement fund and a savings account. This way, if I ever had a need to spend extra money, such as to deal with a car issue or to go on a trip, I would be better prepared to handle anything that came my way.
While "Making Cent$: Life After College" did end up scaring me a bit, it also made me realize how capable I am at handling real life. Thinking about ways to save money helped me focus on what is really important and what is not. I'm very glad that I decided to go to this event, and I would recommend it to any student who wants to gain a better understanding of how to be prepared for life once they leave college.