Cheyenne Dorsagno, Copy Editor
"'Til it Happens to You" is a song produced and sung by Lady Gaga, co-written by Diane Warren, for the critically acclaimed documentary, The Hunting Ground, which was released in February of this year.
The filmmakers went on college campuses to look behind the statistics: one in five American women will experience attempted or completed rape while nearly 50 percent will experience some form of sexual assault. Victims of rape spoke about the college administrators who ignored them and the obstacles they had to face because these administrators were more interested in keeping the university's rape statistics low rather than bringing an offender to justice. Even highly respected institutions such as Harvard and the University of North Carolina are guilty of this, especially when concerned with protecting their all-important athletes.
The music video is explicit and a potential trigger for victims of sexual assault, but the imagery is necessary to accurately illustrate the brutality of these acts. The lyrics read, "This is no joke/ … Until it happens to you, you won't know, it won't be real/ … I know how it feels." Although the frequency of sexual assault is repulsive and alarming, the United States has adopted a rape culture that not only ignores these occurrences and makes light of this reality, but also often times manipulates situations of rape to make it "funny."
"'Til it Happens to You" shows how a welcomed friend can become an offender or how a fun night out and a thoughtful drink offering can turn into a situation of drug-induced rape. This clip also features a transgender individual, and LGBTQ* persons being more likely to be sexually assaulted. Lady Gaga uses a strong, throaty, and drawn voice to create an eerie feeling of suffering.
Those who have not experienced these horrific acts should be grateful, should unfortunately remain cautious, and should remind themselves to be sensitive to victims because the consequences of these crimes are unimaginable. At certain points in the video, the survivors have black writing on their bare skin to make obvious their inner feelings. Some of them read, "I hate myself" and begged, "Believe me." It's estimated that as low as two percept of reported rape cases are false accusations and yet people who are searching for help are often swept under the rug as "liars" or as being "melodramatic."
The Rape, Abuse, and Incest National Network (RAINN) reports that victims of sexual assault are three times more likely to suffer from depression, six times more likely to suffer from post-traumatic stress disorder, 13 times more likely to abuse alcohol, 26 times more likely to abuse drugs, and four times more likely to contemplate suicide.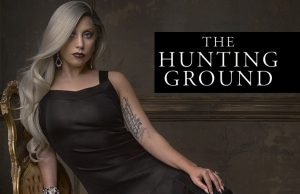 The video portrays the importance of a loving community as these victims become surrounded by friends who lift them out of bed, cook them breakfast, hug them, and walk as a group down campus hallways. This support has changed the victims' words to, "I am worthy" and, "I love myself." However, the video ends with a figure alone in the distance, perhaps to make clear that there are still many struggling survivors who remain in the dark. A portion of the proceeds generated by "'Til it Happens to You" will be donated to organizations that help survivors of sexual assault. For charitable, educational, and humane purposes, everyone should consider giving this song a listen.